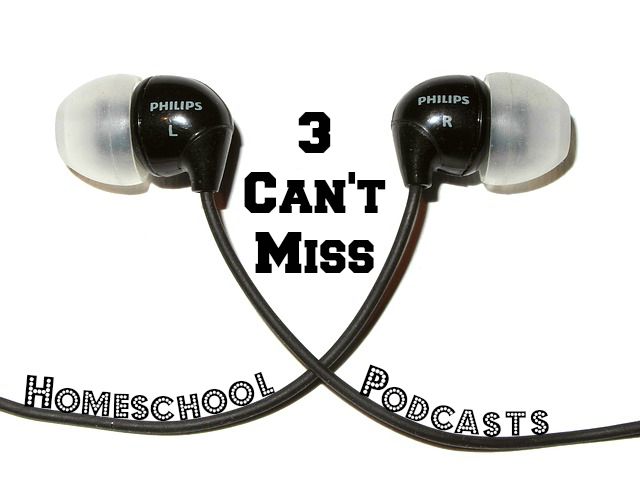 I discovered homeschooling podcasts on iTunes about a year ago.  Since that time I have listened to a great variety of homeschool podcasts and there have been a few that I have come to love.  These three are my favorites:
1.  Savvy Homeschool Moms (secular content)
Savvy Homeschool Moms is a podcast put on by secular homeschoolers Beckie Tetrault and Tina Smith.  Located in California, these eclectic homeschooling moms open up their lives and share the realities of homeschooling.  Their show gives the feel that you are listening in to moms who are sitting around chatting about homeschooling.  Once they get the listener caught up on what has been going on in their lives, they discuss the topic of the day.  New episodes come out every 4-6 weeks so once you have listened to all of the archived podcasts you have to wait around awhile for a new one.   Their website lists all of their podcasts.
2.  The Sociable Homeschooler (religious content)
The Sociable Homeschooler is a podcast produced by Vivienne McNeny, a native Englishwoman who currently lives in the USA.  She homeschooled her kids and seeks to encourage other homeschoolers in their journey.  Warm and welcoming, Vivienne McNeny starts the show by sharing what has been going on in her life and then the show continues with a guest interview.  Each show features a new guest and includes homeschoolers from a variety of perspectives.  The Savvy Homeschool Moms were guests on one of her shows. Sometimes the podcasts are weekly and other times there are gaps of time where there have been no podcasts.  But the archives are huge!  Check out The Sociable Homeschooler website for a list of the shows.  These podcasts are perfect for when you want to put on a pot of tea, sit back, relax, and enjoy the show.
3.  Homeschooling IRL (religious content)
Homeschooling IRL stands for homeschooling in real life.  Kendra and Andy Fletcher are a husband and wife team that seek to encourage and share helpful information to help others make homeschooling work.  As grace-based Christians, Kendra and Andy Fletcher have a refreshing and uplifting viewpoint that will point you towards God's grace as you work through the difficulties in day-to-day homeschooling.  The couple's delightful banter and humor keeps things interesting as they talk about the topic of the day.  Some shows include guests who can share a unique perspective on the topic.  Check out their website here.
Do you have any favorite homeschooling podcasts?  Please share in the comments.  I'd love to listen to some more.