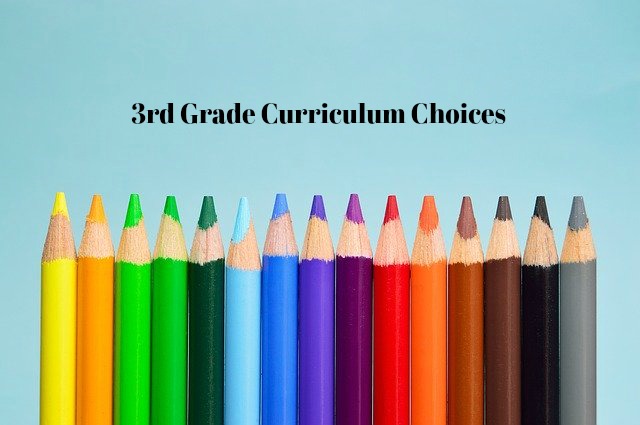 These are my curriculum choices for my 3rd grade son who is a creative visual-spatial learner with strengths in math.
Bible – Draw to Learn the Life of Jesus, self-designed story-focused Fruit of the Spirit study, Visual Bible Matthew, John, and Acts, Nest Animated Stories from the NT, The Jesus Movie, Greatest Heroes of the Bible video series (NT episodes), Jesus of Nazareth movie, Storykeepers, The Greatest Story Ever Told movie, and the Friends and Heroes series.
Math – Singapore Math (through 4B/5A), Singapore Challenging Word Problems, Hands-On Equations, Xtra Math
Logic– Chess Kid, Grid Perplexors B, Logic Countdown, Visual-Spatial puzzle books
Arabic – Alif Baa, Arabian Sinbad
Mandarin – My First Chinese Reader 1 
Greek – Athenaze 1
Grammar – Basic Cozy Grammar and Cozy Punctuation
Writing – Wordsmith Apprentice, NaNoWriMo Elementary School Workbook, Killgallon Story Grammar for Elementary School  
Typing – Mavis Beacon
Handwriting – Cursive using Startwrite software
Vocabulary – 101 Doodle Definitions
Literature – Classic book list
History – Project-based approach to Ancient China through Anglo-Saxon England time period using books, movies, documentaries, and his imagination.  
Geography – Virtual trip around the USA and Canada
Science – Books and labs related to CPO Physical, Earth, and Space Science with time to explore concepts using objects around the house, Invertebrates study
Computer Science – Udacity CS101 Intro to Computer Science  
Art – Drawing from the Right Side of the Brain
Music – Sight Sing a Song Set 1, Alfred Kid's Guitar Course Book 1