I like flexibility when it comes to scheduling in our homeschool. Having a schedule is quite necessary for us or we would get very little done. I've had some difficulty adjusting to working with three kids instead of two, but this schedule had made the transition quite easy.
To start organizing our schedule, I decide how much time we want to spend over the course of a week. I then look at the different subjects and fit them into that time frame so we are not overscheduled. I then wrote out a list for each child of every subject that would be covered in a week's time. If we did a subject more than once, I would list it however many times we covered the topic. For instance, my daughter's list might start out like this:
Reading 
Reading 
Reading 
Reading 
Reading 
Handwriting 
Handwriting 
Handwriting 
Handwriting 
Phonics 
Phonics …
Once the child's list is complete, I copied the list into a
random list generator
.  Once the list is randomized, I go through it and change a few things around because some subjects are next to each other.  
A finished list might look like this: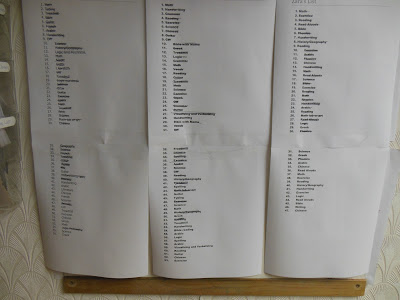 I then post up the list in our schoolroom with the child's name on top.  Then as we progress through the week we make our way down the list, crossing out completed items as we go.  This makes everyday different.  We also never finish our list, but we come close enough so that we are covering what needs to be covered every week.  I just bump the unfinished portion of the list to the top of the list for the next week.
Unable to clone myself, I may sometimes have a child skip over an item until I am available.  This flexibility has been key to working with three kids.  Many times I will find myself sitting in between two kids and going back and forth between them.  As we go along, I've discovered which subjects my child can mostly handle on his own and which ones need most of my time.  
Everyday is different which is how I like it.  Yesterday, our day was filled with STEM subjects.  I think my son did math twice and science twice.  Today he didn't have any science.  To give you an idea how it is working, here was our day today:
 Geography – 1.5 hours (spent longer coloring the details on the flag)

 Mostly played, but wandered over to watch a video and colored a flag of Iran.

 Classical Writing – 20 minutes

Independent study on topic of choice – 60 minutes

 

Independent study on topic of choice – 60 minutes

Free play, chores, and  iPad time
I don't know if that all adds up correctly.  I have an idea how long we should spend on a topic, but that is just a general guideline.  My daughter's day was a little lighter than usual.  This day happened to have a list that had me putting most of my time towards one of the two older children.  This day also had my youngest have her schooling time in two chunks, but it is more typical for it to be scattered here and there throughout the day.  I just give her a heads up when I'll be ready to work with her.  
This schedule is working very well for us.  It provides us with structure, gives us days that are always different, and allows us to be flexible with how long we spend on a subject.