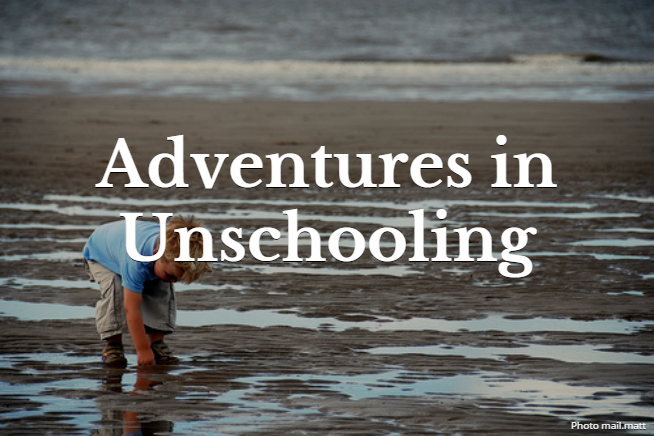 I love unschooling.  Unschooling is the process of letting your child's interest guide his learning.  In unschooling you won't sit your child down to learn, but the child may come up to you and ask how to write his name.  In unschooling, learning is natural and unstructured, making use of natural situations throughout the day.  A parent can also provide educational materials for the child to play with and explore at will.
Now that my two boys are older, unschooling is only part of our educational philosophy.  Most of our school days are spent in structured or in a parent directed activity.  But unschooling does show up like when my son is reading an astronomy encyclopedia for fun or playing around on Google Earth.  It shows up with my younger son when he draws a picture and writes words into the picture or when he blogs about his favorite topic.
My little girl who is not yet two is enjoying the unschooling life.  How do you unschool a two year old anyway?  I follow her lead and interests.  Playing is such an important part of learning for the young child.  I encourage my little girl's language development by commenting on what she is doing or seeing.  I encourage greater complexity in her play skills.  For instance, if she comes and brings me a piece of toy meat to eat I might tell her that I wanted hot meat.  She may then take the toy meat and put it in her toy microwave.  If she brings me her baby doll I might comment that the baby is tired to try to encourage her to put the baby to bed and extend the play sequence.
What about the ABCs and 123s and all the other things she needs to know?   Don't I have to teach those directly?  I've found with all my kids that they will pick these things up in their play.  I do have a lot of educational toys, games, and videos available.  My daughter really enjoys Signing Time.  Signing Time
is a set of DVDs that teach your child sign language in a fun and engaging way.  My daughter also enjoys Baby Einstein DVDs.  While DVDs can introduce educational concepts, they can't be used alone to teach the concepts.  For instance, my daughter enjoyed watching the Baby Einstein – Numbers Nursery
.  Prior to watching that she had been introduced to numbers through play and conversation.  Today, we had an unschooling moment that shows just how well unschooling works.  It was a brief moment that lasted less than 10 minutes, but I believe it shows that young children are naturally curious about their environment and don't need structured learning during the early years.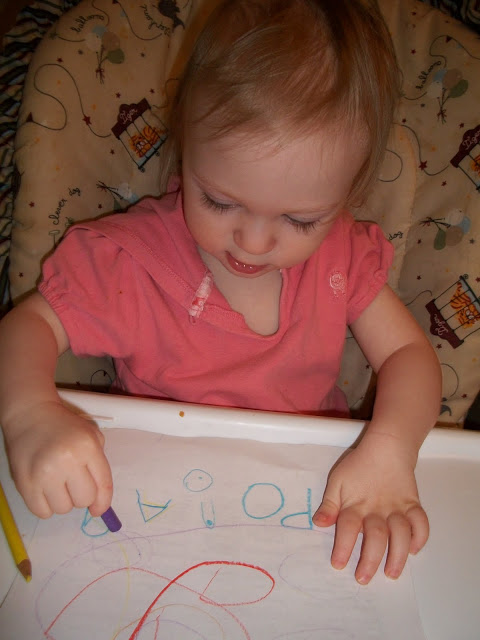 Here we see my little girl in her high chair.  She had asked to sit in her chair to draw.  I usually give her a piece a paper and a couple crayons and colored pencils.  She proceeded to draw and scribble a bit.  She then handed me a crayon and asked me to draw.  During these ten minutes she asked me to draw a 9, an A, an O, a P, a 3, a 1, a monkey, a finger, a ball, and a belly button.  She likes to scribble and draw circles on her own, but she will often ask me to draw different letters and numbers for her.
I find unschooling to be the perfect fit for the young child.  Fully practiced, it is a lifestyle of learning.  My little girl is learning every day, yet she will likely not start anything structured until age 5.  She may not think she has started school, but learning started the day she was born.  Did I mention I love unschooling?