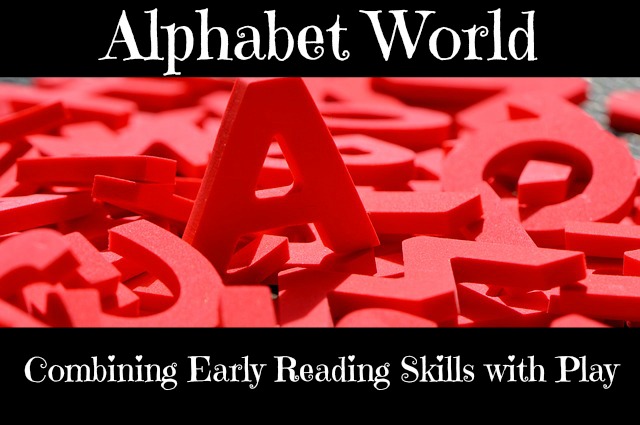 My daughter and I have had a bit of fun playing Alphabet World.  Basically I get out our Melissa & Doug Upper & Lower Case Alphabet Puzzle along with my daughter's stash of mini-figures.  She loves her little figures and has been known to play with them for hours.  My goal was to help my daughter understand the concept of rhyming.  I chose a mini-figure and had it find the letters for its name.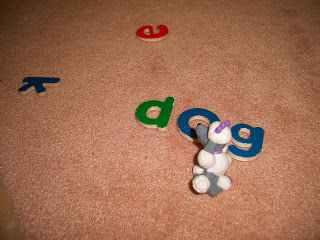 This picture shows a little dog figure that found the letters in his name.  He stood guard by his word and whenever someone came along and changed the first letter the dog responded.  For instance, when it was changed to "jog" the poor dog had to keep running and running around until it was switched back to dog.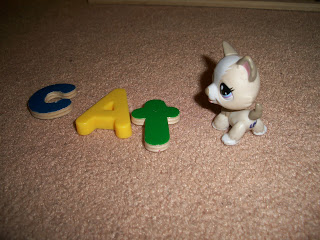 It was similar with the cat as well.  When the word was changed to "bat" the cat ran away screaming from the bat that would surely be coming.  Once it was changed back to "cat" the cat was content.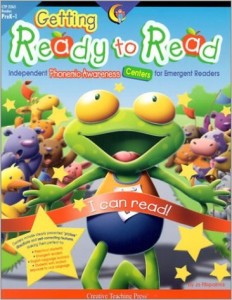 The first day we played this, my daughter was going strong after 45 minutes before I had to call it quits.  We played it for several days before we moved on to something else.  It really helped solidify her understanding of rhyming that we later followed up with some paper activities from Getting Ready to Read.  Getting Ready to Read walks your child through different levels of phonemic awareness which I find to be important for overall reading and word attack skills.
My preschooler just came over as I was typing out this post and remembered our Alphabet World game from a couple weeks ago.  Guess what she wants to do now?  Since she has a good grasp on rhyming now I'll adapt the game to suit what she is currently learning.