Learning foreign language vocabulary can be done through rote memorization, but it isn't very fun and at times it can be quite tedious.  We've had success learning individual words by association.  For instance the word for farmer in ancient Greek is αὐτουργός which sounds like owe – tore- gose. We remembered the word by creating an association that the farmer chases ghosts out of his field.  This method has been highly effective for us. I decided to try something a little different recently.  
Once a week we focus on Greek vocabulary learning through games.  I wrote down all the vocabulary words in the first three chapters of Athenaze on a poster board.  I also wrote each Greek word on an individual card with the English meaning on the back.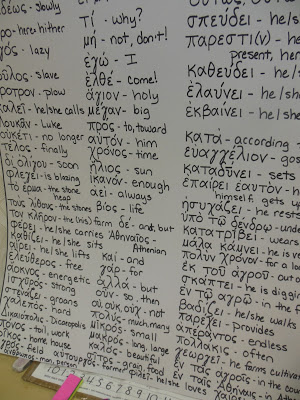 For pictionary I cut the deck without looking and we take turns picking a card.  There are usually three of us playing- my two boys and I.    Then, in turn, we draw some sort of picture so the non-drawers can guess the right vocabulary word.  The only catch is that the answer has to be in Greek and not in English.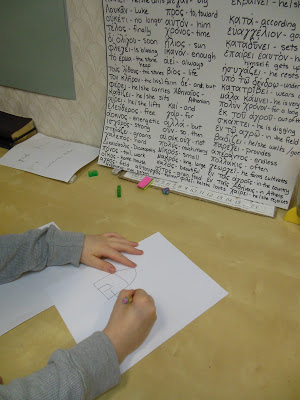 We also use the same materials to play charades.