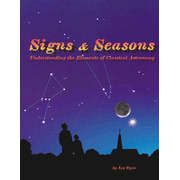 I recently sat down to read Signs & Seasons Understanding the Elements of Classical Astronomy by Jay Ryan. Signs & Seasons is an astronomy curriculum with a Biblical perspective, but it is not your typical astronomy curriculum.  I have a son in love with astronomy and I was expecting a course on the beautiful heavens, the planets, and things like black holes and NASA missions.  To my surprise I learned that classical astronomy is quite different. 
Classical astronomy is about learning about the times and seasons by just looking at the sky with your eyes.  No telescope is necessary.  I must admit, unless the sun is rising or setting I do not know what direction is north, south, east, or west.  And there is no way I could figure it out at night.  Yet, the sky is what mankind has used for most of history in order to tell time and direction.  Once I stopped to think about it, I realized how useful this course could be.  Sure my son loves learning about the moons of a far away planet, but can he look up at the sky and know which way is north?
Signs & Seasons
by Jay Ryan is a beautifully bound hardcover textbook.   The 
Field Journal and Test Manual
is a great companion to the course.  While the hardcover textbook does have Field Activities, the Field Journal gives you space to jot down your observations.  The field activities will get you outside looking up at the sky and making observations.  The Field Journal and Test Manual also contains 8 different tests which correspond to each chapter.  The tests consist of things like fill in the blank, labeling, and true/false questions. 
It is a course designed for high school credit, but can be used for younger children with parental guidance.   The bulk of the time spent in the course is in the field activities.  To complete the course it would probably take a high school student 3-6 months and a younger student an entire school year.  I've found this course to be a good companion to a study of ancient and medieval history.  The text is full of quotes about the sky from the Bible as well as individuals who lived long ago.
While this course is Biblically based, it is not focused on a young earth or old earth perspective.  It is simply a course on how to observe the sky and not on how the sky came to be so it can be used by old earth and young earth Christians without any difficulty.  In addition to learning how to observe the sky it covers the history of the calendar.
I highly recommend 
Signs & Seasons
.  While my son is still a little young for this course I plan to use it with him when he is in middle school.   I will learn right along with him.  I can't count the times in my life where knowing how to understand time and direction from the sky alone would have been very useful. 
You can view a detailed
table of contents
and
sample pages
at ClassicalAstronomy.com.  Take a peek.  Maybe you will be pleasantly surprised like I was.