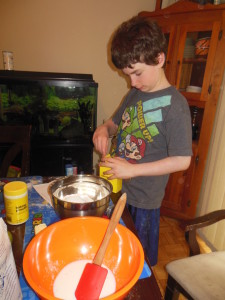 The voting in our biscuit baking competition has now finished and we have a winner. Last school year we started baking competitions between my kids.  They have learned a lot and have enjoyed competing with each other.  Each child is judged according to taste and looks. Taste is judged by whomever we have available to taste test at the time the competition is completed. Looks are judged by online votes. Pictures of the final creations can be found here.
The results for the best tasting biscuit were:
1st place was the Bacon-Cheese Biscuit by my 10 year old.
2nd place was the JP's Big Daddy Biscuit by my 6 year old.
3rd place was the Lime Biscuit by my 12 year old.
The votes for the best looking biscuit were as follows:
1st place with 80 votes – Lime Biscuit
2nd place with 48 votes – Bacon-Cheese Biscuit
3rd place with 9 votes – JP's Big Daddy Biscuit
We are finishing up the baking competition from last year so the scoring from last school year has continued.  We only have two competitions left before we compute the final results.
Points are assigned for each category and a total number of points are tallied for the entire competition. At this point here are the standings:
1st place – 7th grader with 34 points
2nd place – 1st grader with 32 points
3rd place – 5th grader with 31 points
Their next contest? Quick Bread!