Bullying is a continuing problem in schools.  Schools have anti-bullying campaigns to combat the bullying behaviors, but bullying continues.  Bullyingstatistics.org reports that 25% of all students are bullied on a regular basis and 77% of all students have experienced bullying at some point.  Unfortunately even with an emphasis on anti-bullying in schools, 85% of the time nothing is done about the bullying.  Bullying has extended beyond the classroom too with 80% of teens reporting that they have been bullied online.
Why is bullying so pervasive with anti-bullying campaigns so active?
Because a classroom environment breeds intolerance and intolerance gives rise to bullying.
Getting a group of kids together who share nothing in common other than age creates a pecking order.  Day in and day out these kids are together.  If you are a child that is too tall, too short, too fat, too skinny, too loud, too quiet, too smart, too different, you are a target for bullying in a typical school environment.
I've heard the argument that a child needs to experience bullying as a kid so they will know how to deal with bullying as an adult.  No!
We should not normalize bullying  as something that most kids need to go through in order to know how to deal with an adult bully.  On the contrary, bullying should be something so unusual that we have no tolerance for it.  If a child is bullied in a classroom, the child typically has to deal with it while still seeing the bully every day.  If an adult is bullied by a boss, quitting is an option.    Also a mature adult facing a bully is much different from a child who is still developing a sense of self.
A home environment provides a more natural landscape for a child to grow and develop.  Children who grow up outside the classroom are more likely to be tolerant of differences they discover in themselves and others.  They don't normalize the pecking order.  They don't normalize the desire to be like everyone else.  A home environment allows children freedom to be themselves.
With homeschooling, a child's primary exposure is to the family unit.  Parents can model tolerance in their everyday life and in their instruction.  They can model kindness and love for others.  They can teach their children about people different from themselves and provide a way for the child to practice those skills in everyday life.
If I want my kids to handle bullies successfully as adults, I will continue to homeschool and provide an environment that normalizes tolerance.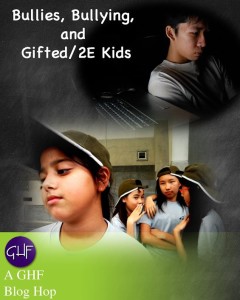 Read more about bullying from other bloggers.  Check out this link.