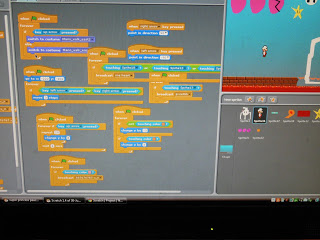 My 9 year old son loves computers and has dreams of being a game designer one day.  Meanwhile, he loves to spend lots of time on Scratch.  Scratch is a "tile-based visual programming environment" where kids can create animations, games, and stories.  My son spends at least an hour every school day working on projects or exploring projects others have completed.  He will often use Scratch when he has screen time too.  I also allow him to use Scratch for projects for science and history.  On the right you can see a picture that shows some of the tiles he used to create a game.  I think he was doing a Mario-type game when I took that picture.
He is excited for me to share a couple recent projects of his here.  He watched a show earlier this week that was a dramatization of the last day in Pompeii
  This inspired his little project.
Here is another one he did for ancient Rome. I think this one was done after he watched Spartacus
Here is another one that he did on energy. It requires you to push the space bar to continue through his presentation. It had me laughing at where the energy ended up at the end of his project.
Because he is highly interested in making games, Scratch is a great tool for him to enjoy some project-based learning.
My five year old also enjoys Scratch. She has been drawing on there for awhile and is just starting to put music on her creations.
This is the only one she has published so far.  She drew the background and added the figures.