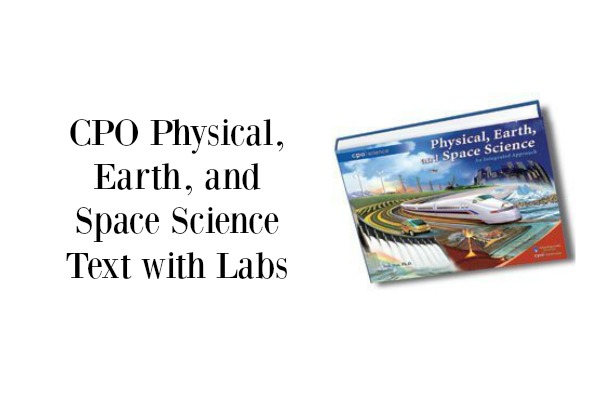 This morning we were watching some Youtube videos for one of the CPO labs and I realized that I hadn't posted this assignment and lab list.  It is very helpful when we are watching videos for me to just come here and click on a link.  After I typed in the first Youtube link for my boys, I quickly came here and posted our assignment list so I wouldn't have to do that again.
This is a continuation of the CPO Physical, Earth, and Space Science
that we used last year.  Here is a link to earlier labs and assignments.  Many of the labs in the CPO lab book require expensive equipment so I have adapted some and substituted others.  The books in the boxes are ones my younger son reads instead of doing the textbook.  He joins us for the labs though.  The last few chapters have blank boxes because we have a bunch of astronomy books around here that he can choose from.
Investigation 11A (need sand, water, 2 containers, thermometer, light)
Read chapter 11.1 and do oral review with me
Investigation 11B (ongoing for 1 month using online weather resources)
Read chapter 11.2 and do oral review with me
Read Gaspard-Gustave Coriolis Biography – Skill and Practice
Read chapter 11.3 and do oral review with me
Read Joanne Simpson Biography – Skill and Practice
Complete Chapter 11 assessment
Weather by Darlene Lauw
DK Eye Wonder Weather
Weather by Seymour Simon
Play Atommate
Read chapter 12.1 and do oral review with me
Read Ernest Rutherford Biography – Skill and Practice
Read chapter 12.2 and do oral review with me
Read Niels Bohr Biography – Skill and Practice
Play Atommate
Read chapter 12.3 and do oral review with me
Play Atommate
Read chapter 12.4 and do oral review with me
Complete chapter 12 assessment
The Elements by Gray
The Elements by Green
Play Atommate
Read chapter 13.1 and do oral review with me
Play Atommate
Read chapter 13.2 and do oral review with me
Play Atommate
Read chapter 13.3 and do oral review with me
Complete chapter 13 assessment
Elements and Compounds by Weir
Chemistry:  Getting a Big Reaction by Green
Investigation 14A (scale, effervescent tablet, paper cup)
Read chapter 14.1 and do oral review with me
Investigation 14B (do without tiles)
Read chapter 14.2 and do oral review with me
Read Lisa Meitner Biography
Play Atommate
Read Pierre Curie Biography
Read chapter 14.3 and do oral review with me
Read Rosalyn Yalow Biography
Play Atommate
Read chapter 14.4 and do oral review with me
Read Chien Shiung Wu Biography
Complete Chapter 14 Assessment
Changes in Matter by Campbell
Matter by Ball
Watch Photosynthesis experiment https://www.youtube.com/watch?v=J1jQcdm0HgM
Watch Plant Photosynthesis and Respiration https://www.youtube.com/watch?v=ZnrLbd6eunQ
Read chapter 15.1 and do oral review with me
Watch What's the Deal with Carbon https://www.youtube.com/watch?v=2Jp1D1dzxj8
Watch NASA Keeping Up with Carbon https://www.youtube.com/watch?v=HrIr3xDhQ0E
Watch Tracking an Ocean of Carbon https://www.youtube.com/watch?v=ew8TvXfei0Q
Read chapter 15.2 and do oral review with me
Read Svante Arrhenius Biography – Skill and Practice
Complete chapter 15 assessment
Climate Change by Unwin
Climate Change by Orme
Read chapter 16.1 and do oral review with me
Read Benjamin Franklin Biography- Skill and Practice
Watch Building a Circuit https://www.youtube.com/watch?v=MI2SS5qaPqk
Watch how to use a multimeter https://www.youtube.com/watch?v=bF3OyQ3HwfU
16A Investigation – Build circuit with snap circuits, do conductors and insulators, dimmer switch on Snap Circuits
Read chapter 16.2 and do oral review with me
Read Thomas Edison Biography – Skill and Practice
Watch Voltage, Current, and Resistance https://www.youtube.com/watch?v=J4Vq-xHqUo8
Snap Circuits – create circuits with resistance
Read chapter 16.3 and do oral review with me
Read George Westinghouse Biography – Skill and Practice
Watch Bill Nye Circuits https://www.youtube.com/watch?v=rg-XFXdtZnQ
Read chapter 16.4 and do oral review with me
Read Lewis Latimer Biography – Skill and Practice
Watch Series and Parallel Circuits https://www.youtube.com/watch?v=x2EuYqj_0Uk
Complete chapter 16 assessment
Electricity by Peacock
Electricity by Twist
Electricity by Woodford
Investigation 17A – (need compass and 2 magnets)
Read chapter 17.1 and do oral review with me
Watch Electromagnetic Induction https://www.youtube.com/watch?v=txmKr69jGBk
Watch Electromagnetism https://www.youtube.com/watch?v=HQdLFEiVeCA
Read chapter 17.2 and do oral review with me
Watch Bill Nye Magnetism https://www.youtube.com/watch?v=4bppssq4jsI
Read chapter 17.3 and do oral review with me
Read Michael Faraday Biography – Skill and Practice
Read chapter 17.4 and do oral review with me
Complete chapter 17 assessment
Magnetism by Riley
Electricity and Magnetism by Whyman
The Science of Electricity and Magnetism by Parker
Investigation 18A (need graph paper and microscope slide of cross-section)
Read chapter 18.1 and do oral review with me
Read Andrew Douglass Biography – Skill and Practice
Investigation 18B
Read chapter 18.2 and do oral review with me
Read Nicolas Steno Biography – Skill and Practice
Read chapter 18.3 and do oral review with me
Complete chapter 18 assessment
Rocks by Ostopowich
Sedimentary Rocks by Stewart
Volcanic Rocks by Dayton
Igneous Rocks by Stewart
Metamorphic Rocks by Stewart
Investigation 19A (3 round objects)
Read chapter 19.1 and do oral review with me
Read Charles Richter Biography – Skill and Practice
Read Jules Verne Biography –Skill and Practice
Investigation 19B (bathymetric map online)
Read chapter 19.2 and do oral review with me
Read Alfred Wegener Biography – Skill and Practice
Read chapter 19.3 and do oral review with me
Read Harry Hess Biography – Skill and Practice
Read John Tuzo Wilson Biography – Skill and Practice
Read chapter 19.4 and do oral review with me
Complete chapter 19 assessment
Metamorphic Rocks and the Rock Cycle by Mattern
Fossils by Faulkner
Sedimentary Rock by Faulkner
Igneous Rock by Faulkner
Investigation 20A (sandpaper, masking tape, paper clips, rubber bands, kite string, index card, metric ruler, sugar cubes)
Read chapter 20.1 and do oral review with me
Investigation 20B (bathymetric map)
Read chapter 20.2 and do oral review with me
Design and create a volcano that will erupt
Read chapter 20.3 and do oral review with me
Complete chapter 20 assessment
Earthquakes by Simon
Earthquakes by Armentrout
Volcano by Rooney
Volcano a Visual Guide by Donovan-O'Meara
Investigation 21A (scale, sugar, sugar cubes, graduated cylinders, beakers, foam cups, stirring rods)
Read chapter 21.1 and do oral review with me
Watch Solubility of Gases https://www.youtube.com/watch?v=K3j9HAsoV5Q
Read chapter 21.2 and do oral review with me
Read chapter 21.3 and do oral review with me
Complete chapter 21 assessment
Water by Lauw
Water by Pipe
Watch stream table https://www.youtube.com/watch?v=IIrFDPZ_2Jo
Create make-shift stream table with container and sand
Read chapter 22.1 and do oral review with me
Investigation 22B (2 containers, 2 glases, Saran Wrap, weights, salt)
Read chapter 22.2 and do oral review with me
Read chapter 22.3 and do oral review with me
Complete chapter 22 assessment
The Water Cycle by Purslow
The Water Cycle by Harman
Investigation 23A (container, sand, water, collection container)
Read chapter 23.1 and do oral review with me
Investigation 23B (container, sand, water, clay, toothpicks, tin foil, rocks)
Read chapter 23.2 and do oral review with me
Read chapter 23.3 and do oral review with me
Complete chapter 23 assessment
Planet Earth by Fothergill
One Well by Strauss
Watch Pendulum and Galileo https://www.youtube.com/watch?v=MpzaCCbX-z4
Read chapter 24.1 and do oral review with me
Investigation 24B (slinky)
Watch wave properties https://www.youtube.com/watch?v=zyqCgtvMwfw
Watch circular wave https://www.youtube.com/watch?v=z63fJUROeN0
Watch ripple tank plane waves https://www.youtube.com/watch?v=JXaVmUvwxww
Read chapter 24.2 and do oral review with me
Read chapter 24.3 and do oral review with me
Complete chapter 24 assessment
Sound Waves by Mahaney
Waves:  The Electromagnetic Universe by Skurzynski
Read chapter 25.1 and do oral review with me
Watch Bill Nye Light and Color http://www.youtube.com/watch?v=CuQMRNg7Zkk
Read Chapter 25.2 and do oral review with me
Watch Bill Nye Light Optics http://www.youtube.com/watch?v=ZFqcaFE6Qx4
Read Chapter 25.3 and do oral review with me
Complete chapter 25 assessment
Light and Sound by Allday
Light by Lauw
The Optics Book by Levine
Investigation 26A (flashlight, foam ball – 2 or 3 inch size, yellow sticker, black sticker)
Read Nicolaus Copernicus Biography Skill and Practice
Read Galileo Galilei biography
Read chapter 26.1 and do oral review with me
Read Johannes Kepler Biography
Read Benjamin Banneker Biography
Read chapter 26.2 and do oral review with me
Investigation 26C (measuring tape)
Read chapter 26.3 and do oral review with me
Complete chapter 26 assessment
Read chapter 27.1 and do oral review with me
Read chapter 27.2 and do oral review with me
Read Arthur Walker Biography
Investigation 27B
Read chapter 27.3 and do oral review with me
Complete chapter 27 assessment
Investigation 28A (telescope)
Read chapter 28.1 and do oral review with me
Read Edwin Hubble Biography
Read Henrietta Leavitt Biography
Read chapter 28.2 and do oral review with me
Investigation 28C
Read chapter 28.3 and do oral review with me
Complete chapter 28 assessment
Model rocketry project