Creative science challenges help a child practice creative problem solving.  I found the idea for our raw egg bungee jump at pbs kids.  Basically, each child had to rig up nylons so a raw egg would bungee toward the floor.  Each egg had to come within 2 inches of the floor without breaking.
I cut a pair of nylons in half so each child had their bungee cord.  I tried to find a suitable place for them to bungee.  Weather outside wasn't cooperative so I rigged up a bungee spot in the living room.  I hung ribbons from the top of the door frame.  They had to attach their bungee cord at a level where the egg would successfully complete the mission.  They practiced with pennies to get the right height.  They held their raw egg in one hand and put pennies in their other hand until they felt the weight was the same.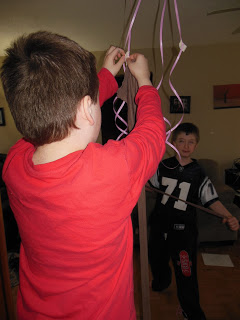 After a few practice runs with pennies and settling on the correct height the egg was inserted carefully in the toe of the nylon leg.  I held it up at the level of the attachment and let go.  One child was on the floor with a ruler making sure the egg came within 2 inches.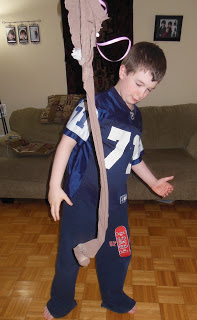 Yay!  No cracked eggs.  I didn't have any protection on the floor and they both managed to come within 2 inches.  While shaken a bit, the eggs found their home back in my fridge.