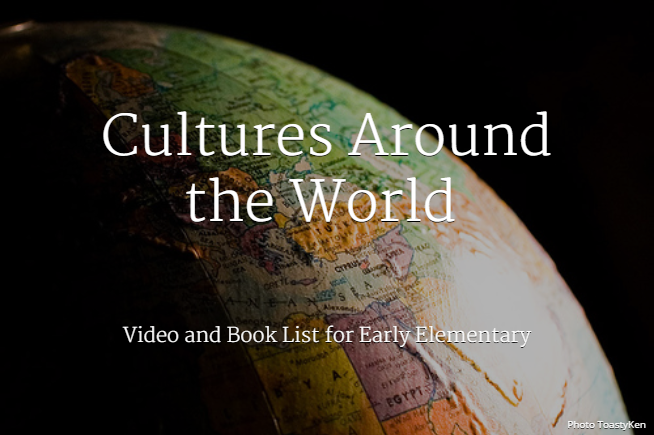 This is a simple study to help introduce my Kindergarten-aged child to different cultures around the world.  I searched my local library for DVDs and books that were suitable for a younger child.  Appreciating other cultures is an important goal in our homeschool.The plan is to go through this list chronologically, but some variation may need to happen depending on availability at the library.  We will read the books together, look up some countries on the globe, talk about the different cultures, and watch DVDs.  The goal is to encourage my child to see the world through borderless eyes.I linked to all the books in the study.  The others on the list are DVDs.
Global Wonders India
Global Wonders Mexico
Houses and Homes (Around the World Series)
East Africa for Kids
Tibet for Kids
Bread, Bread, Bread (Around the World Series)
West Africa for Kids
Ethiopia for Kids
On the Go (Around the World Series)
The Little Travelers Germany
The Little Travelers Iran
Shoes, Shoes, Shoes (Mulberry Books)
The Little Travelers Japan
The Little Travelers Bali
Hats, Hats, Hats (Around the World Series)
The Little Travelers The British Isles
Families of Philippines
Tools
Families of Germany
Families of Canada
Weddingsby Morris
Families of Afghanistan
Families of Kenya
Familiesby Morris
M'Parany in Madagascar
Diogo in Portugal
Loving (Around the World Series)
Outi in Finland
Rebeka in Estonia
Lars in Sweden
Children Just Like Me: Celebrations!
Svanborg in Iceland
Noggy in Mongolia
Amira in Algeria
The Oxford First Book of Children of the World (Oxford First Books)
Andreas in Austria
Simio in Greece
Pepito in Guatemala
Children from Australia to Zimbabwe: A Photographic Journey around the World
Dermat in Australia
Jake in Texas
A School Like Mine
This study will help my daughter prepare for our World Poverty study that she will do in first grade.