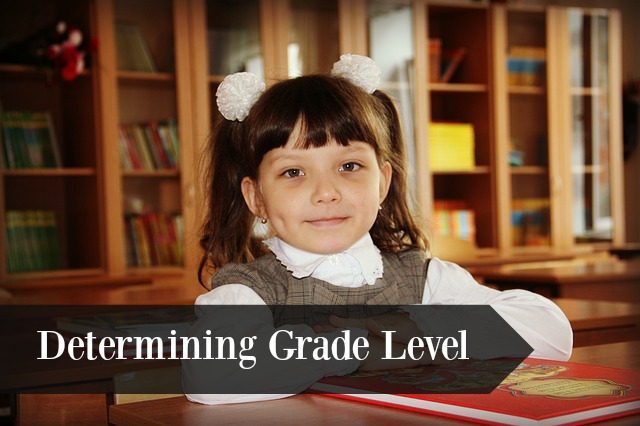 Talking with other homeschooling parents I have realized that not everyone determines grade level in the same way.    Some choose to determine grade level according to their child's skill level and others equate the grade with the child's age.
I think homeschooling provides a unique perspective on grade levels.  For one, we aren't limited by grade levels.  It is common among homeschooled children to be working at several different grade levels at one time.  Some may need extra help in one subject and be advanced in another.
Also, because homeschooling is a totally different way to learn, the grade levels that schools use to group children don't often fit too well.  Many homeschoolers don't view learning in a way that fits into grade level designations either.
We have found that it works well to equate grade level with age.  This means that my 13 year old is in 8th grade.  However, this grade level has nothing to do with his level of learning.  His learning is personalized to him and not to what a group of kids are supposed to learn.  I see grade levels as just another way for me to state his age.
Young children are often asked how old they are by acquaintances.  But older children seem to get the question about what grade they are in.  When my children get asked the grade level question, they have no problem answering their grade age.  This is because in our home we use the term "8th grade" or "5th grade" to signify the number of years of schooling rather than the level of work the child is doing.
Asking a child's grade is one of ways that people in our society make polite conversation and find out how old the child is.   I don't think I've ever seen an occasion where the person really wanted to know the levels my children were attaining in their studies.
If the child has academic needs that require an early or late graduation, the age=grade choice might be more complicated though.  We are planning on the standard number of years of schooling before college so using the age=grade designation works quite well for us.
How do you handle the issue?