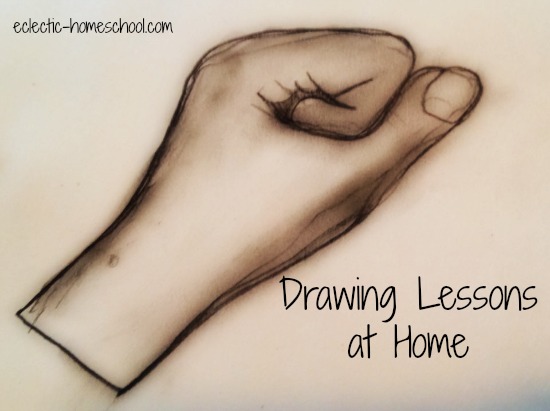 I am not an artist.  I don't draw and I don't enjoy drawing.  Yet all three of my kids love to draw.  Paper doesn't last long around here before it is covered in some kind of drawing.  I've attempted a couple drawing books or websites with my kids before, but they were usually too complicated for me to use with my kids.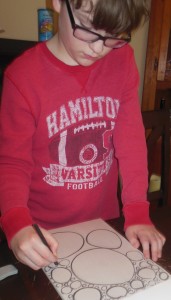 I decided to try Phonics of Drawing with my kids this school year.  I wanted to help develop their drawing skills in an affordable way.  Phonics of Drawing is a CD curriculum that has 30 lessons.  These lessons come in different skill levels so all of my kids can do it at once.
The CD arrived at our home last week and we have already completed 4 lessons.  My kids are enjoying it and I am as well.  It shows pictures and provides step by step instructions so a non-drawer like myself can guide my kids in learning drawing techniques.
The picture above is an exercise that my 11 year old did.  He was supposed to look at his hand and draw it without lifting up the charcoal.  In the picture on the left, he is practicing different size circles with the charcoal.
Basically the lessons are set up in a way where the child practices a new skill and then uses that skill on a detailed drawing that is worked on for multiple lessons.  Each lesson is supposed to take an hour, but we have had some that were quicker than an hour so far.
We did need to get many art supplies in order to use this curriculum.  Things like charcoal and charcoal paper were not things I normally had around the house.  A supply list is on the back side of the CD case.
What have you used to help your child learn drawing techniques?