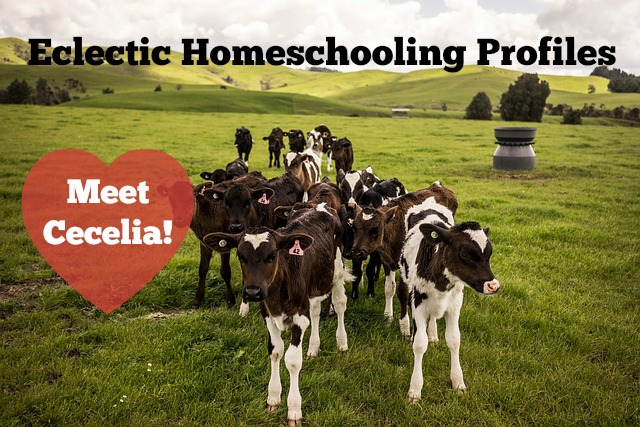 Eclectic homeschooling involves meshing different educational philosophies and methods into something that works for your family.  As a result this will look different from family to family.  We are featuring a series of interviews with eclectic homeschoolers to show how varied eclectic homeschooling can be.
Meet Cecelia!
Why did you decide to homeschool?
We are dairy farmers in New Zealand and although we have rural schools near us, as Christians we wanted our children to attend a Christian based school. This meant a 45 min journey one way, a travel time we knew would effect our family life. A greater concern was the fact that due to the timing of school hours the children would never see their father due to milking times. I was homeschooled myself in Africa so deciding to homeschool became an easy choice when we reflected that we were raising a family together not individual children.
How long have you been homeschooling?
We have been homeschooling for 18 months.
What ages/grades are you homeschooling?
William is 6 years old and here in New Zealand would be in his second year of school but probably (due to his birthday) be starting Year 2. Louise is 4 and a half and has started formally learning – her choice, so would be considered New Entrant here in New Zealand Yohanna is 2 and half and Hain is 3 months old. I'm not sure what the American equivalent is sorry. Here in NZ children start their schooling on their 5th birthday and depending where in the year they are born determines how they progress into Year levels.
Score for Waldorf Education: 6
Score for Traditional Education: -23
Score for Unit Studies Education: 6
Score for Montessori Education: 14
Score for Thomas Jefferson Education: 3
Score for Unschooling: 15
Score for Classical Education: 11
Score for Charlotte Mason Education: 11
Use 3 words to describe your homeschool:
Flexible, family, outdoors
What makes your homeschool eclectic?
Our 'spine' is Classical education, from this we branch out using Charlotte Mason and Natural homeschooling approaches. Language learning (English) is phonics based using various programs that suit each child. For my eldest ( Mr 6) this was Alpha to Omega (a program my mum used when teaching in Africa), for the next child (miss 4.5) it has been using music, specifically Jolly Phonics. Charlotte Mason's living books ideas have been exceptional useful for Miss 4.5. Learning the letter sounds and the start of basic words was very interest led, so for Mr 6 it was farm themed and for Miss 4.5 we have animals.
Maths is very formal, we sit, I teach and we follow the Math U See program. Supplementing especially in the areas each child needs more time. For Mr 5 I have a whole load of Lego learning ideas! Our decimal street (hundreds tens and units) involved building each house and a Lego car to travel on the street.
History and Geography we use Story of the World, this gives me a guide and we skim through chapters that Mr 6 shows no interest and spend a lot of time on areas of history he adores. Like Egypt! We have developed very deep into Ancient Egypt. From this history we start each week with a "where in the world are we' and do a bit of research in terms of modern day world, when in SOTW we looked at the China, Mr 6 learnt the continents and that Russia is the largest country in the world, this interest led us to research, read, write various things on Russia and we still are.
Science I use Classical education as a guide to give me an area to explore and unit studies have been a great way to help guide both Mr 6 and Miss 4.5 in their exploring of this topic. Charlotte Mason's guide on nature study is our basis and simply getting out and exploring the world.
Our last area is The Arts and this is reflective of each child's interest. Currently we spend a lot of each day listening to music as Miss 4.5 loves it. She is starting to learn to play the violin and much of our music centres around the Suzuki method in this. We also set days where we do craft type activities. I haul out our craft supplies and let them follow their interest. Miss 2.5 likes colouring and cutting and the older two love glue. We have spent a number of weeks exploring how to turn a shape into a picture. I have used the TJED philosophy of inspire not require in this aspect. I get to spend hours being creative and they come along and join me.
What do you think makes your homeschool unique?
My homeschool is unique as my children are unique. We focus on building a family and so all our choices fit in to us as a family. We school all year around so when farm things happen, family visit or life happens are schooling carries on.
What does a typical day or week look like in your homeschool?
Waking up is a long process anytime from 8am. We do two learning focuses before breakfast, generally reading and writing/colouring! Breakfast and then another hour/hour and half of learning which is rest of language learning and maths. Language learning can be writing a story from our History, hearing a story on the topic we are learning in science. We then head out on farm around 10.30 to help m husband finish up with farm work and the children all join him for his breakfast and their 'second breakfast'. We then have a lesson (Faith, Language, Maths or Science) and finish up the morning with lunch. The afternoon is dependent on activities. We have History and geography focus on afternoon a week and music, art craft another focus. We live half an hour away from town so grocery shopping and farm needs are fitted around the children's activities of gym and music, so a whole afternoon in town two or three times a week. This is when we go to the library or bike riding or walking/exploring our local environment.
What curriculum has worked in your homeschool?
Curriculum wise, Math U See and Story of the World are mainstays.
Do you have any favorite homeschooling books?
My favourite book is The Well Trained Mind, it is gives me a clear guide for building my children's education. My son adores DK books on whatever topic is his current favourite. My daughter loves Richard Scarry.
Do you tweak curriculum to work for you? Describe how you do that.
Do I tweak? Yes! I see curriculum as a spine and an idea generate. So I read and understand the concept been learnt and then build a lesson around that for my child. In Maths for decimal street we spent a few hours building a Lego decimal street and car to travel on the street and then did mainly verbal learning of how to build the numbers before opening up the workbook pages to do written work.
Anything else you would like to share:
When we decided to homeschool I spent a lot of time searching for a method and realized I needed a philosophy a spine. Once I had this, which has been classical education, I was then able to decide how to educate. I was never comfortable with everything in a curriculum offer or school in a box option. One thing would be great and the rest didn't quite fit. Living in New Zealand meant that international postage is expensive unless you purchase a whole set. So finding your website was a light in the darkness as suddenly what I was finding I wanted to do had a name, had ideas and most of all had other people who were like this.