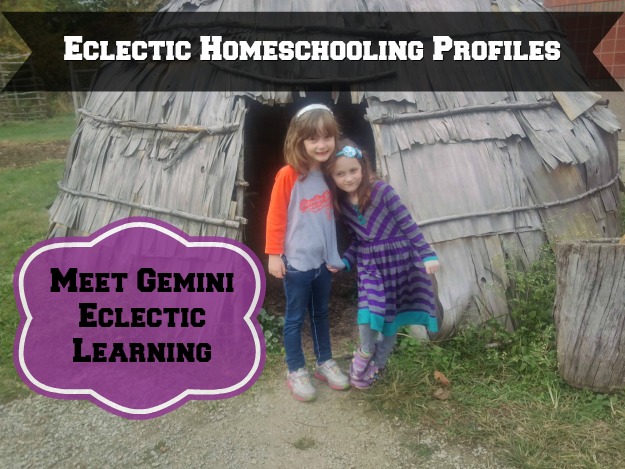 Eclectic homeschooling involves meshing different educational philosophies and methods into something that works for your family.  As a result this will look different from family to family.  We are featuring a series of interviews with eclectic homeschoolers to show how varied eclectic homeschooling can be.
Meet Gemini Eclectic Learning!
Why did you decide to homeschool?
I can name lots of reasons but they all boil down to freedom. Freedom for my kids to learn their own way, freedom to teach them what I think is important, freedom for my twins to be together, and freedom for our schedule (which includes more time with their dad). I also wanted my kids to be able to try lots of different things, and I knew that if they were in public/private school they would be too burned out at the end of their school day to try very many extracurricular activities. Homeschool allows us to structure their days in a way that they are able to enjoy plenty of fine arts, science and physical activities.
How long have you been homeschooling?
We started homeschool Aug 2015, after girls had attended private preschool and kindergarten.
What ages/grades are you homeschooling?
Homeschooling 1st grade twins.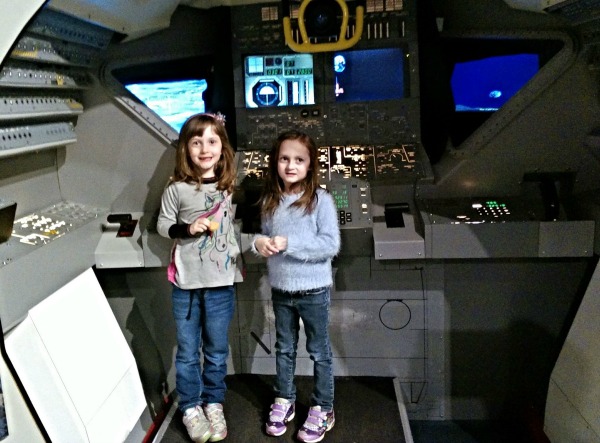 Score for Waldorf Education: 10
Score for Traditional Education: -9
Score for Unit Studies Education: 8
Score for Montessori Education: 18
Score for Thomas Jefferson Education: 3
Score for Unschooling: 8
Score for Classical Education: 6
Score for Charlotte Mason Education: 17
Use 3 words to describe your homeschool:
robust, diverse, fluid
What makes your homeschool eclectic?
First I don't adhere to any HS philosophy, some part of all of them sound good but none is a total fit. If I have an educational philosophy it is: Change is Good. Just like a good work out for the body involves change and muscle confusion so should working out the brain. I think that my kids learn best when we learn a range of topics in a variety of ways. There are times we do more traditional curriculum choices, times when we watch and discuss a program on Netflix (ie Magic Schoolbus), do online learning programs (ie Reading Eggs), do a project or go on a field trip. I love to learn and I want my kids to love to learn, so if I am bored, they are probably bored and that is when we switch things up.
Have you always been an eclectic homeschooler?
I have always been an eclectic homeschooler because it is intuitively the way I learn best and the way my kids learn best.
What do you think makes your homeschool unique?
Not sure how unique it is but we go on plenty of field trips (maybe more than most) and we aren't afraid to drive a good distance to learn. Also my kids do quite a few enrichment classes and activities (lots of Fine Arts, Science and Physical Activity). I feel like part of my responsibility as their educator and mom is to expose them to a wide variety of topics, activities and hobbies so they can begin to cultivate a knowledge base of what they like to do, what they excel at and what they may have a passion for.
What does a typical day or week look like in your homeschool?
A typical day in our homeschool depends on what season we are in. If it is winter and cold, we stick closer to home w/ more curriculum based learning, projects, computer programs, and netflix. If we are in warmer months we are on lots of field trips locally and long distance. My kids LOVE field trips and frankly so do I. We school year round. I have found that my kids really regress when we don't regularly hit Reading/Writing/Math, so we cover those at least 4 days a week (even when traveling). My kids really like history and science so we do more in depth studies in those subjects than most 1st graders I would think. They love kitchen experiments and that is something special they do with their dad (usually on weekends). I school on a M-TH schedule and use Fridays for co-op 2 times per month and field trips and projects. We start around 9am and try to be done by 1-2pm. We will use weekends for field trips and projects (espeically things we want to do with dad). We are fortunate enough to have 2 acres of woods on our property and my kids play outside year round.
What curriculum has worked in your homeschool?
My kids love working on the computer (has really helped my visual learner) so Reading Eggs, Math Seeds and Science4us are all popular. MathUSee has helped my daughter really love math (visual). The supplement we use for math that is hugely helpful is Addition the Fun Way, which has helped them turn the table with learning their math facts. We use All About Reading, which seems to work pretty well. We use the library a lot!! Every 3 to 4 weeks my kids pick a subject they want to learn about. I am often suprised by the things they choose, the current topic is Gravity. We check out every kids book we can on that topic and every video I can find on Amazon, Hulu and Netflix and we learn. We are also reading our way through Harry Potter, which they LOVE.
Do you tweak curriculum to work for you? Describe how you do that.
I do like to use curriculum but yes I almost always tweak it. Mostly because I know the way it is laid out will either not interest my child, confuse the topic in some way, is frivilous, or it isn't enough detail so we need to add something to it. So I am always either condensing or expanding based on my kids' learning style and interests. If I can find a video of some type to go with our lesson I do.
Anything else you would like to share:
I think that Fine Arts is hugely important, so my kids do lots of art at home and in classes, they dance, take musical theater and will soon start the piano. I think exposure to foreign language is very important so we have started with Spanish (mainly because that is what I know). They also really enjoy criticial thinking work and puzzles. We also study geography and other cultures. I love homeschooling, it has made me a better mother and it has enriched our lives. We live as learners. I am not sure everyone has the same experience as us, but it has alleviated stress and brought us joy. We seem really busy to some, but we are busy doing the things that we love not things on a school district schedule.