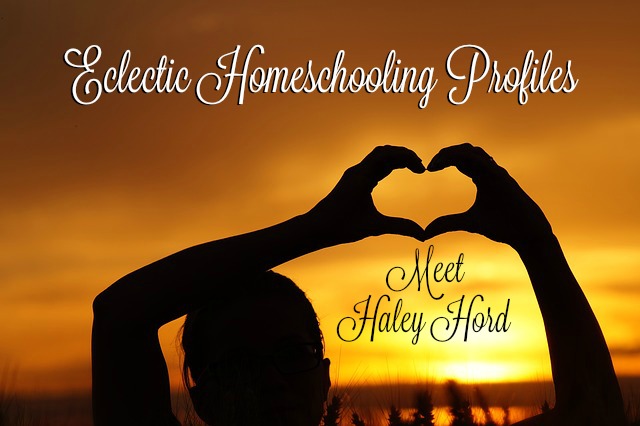 Eclectic homeschooling involves meshing different educational philosophies and methods into something that works for your family.  As a result this will look different from family to family.  We are featuring a series of interviews with eclectic homeschoolers to show how varied eclectic homeschooling can be.
Meet Haley Hord!
Why did you decide to homeschool?
I decided to homeschool before I ever even had children, mainly b/c I became a Christian as an adult, so it was for technically "religious beliefs" at first, but what really confirmed it was seeing how true and original my daughter was turning out to be. So, now that I'm a mother of 3, for me it's to preserve her originality and allowing her to be as creative as she wants to be.
How long have you been homeschooling?
I have been homeschooling for about 3 years (preschool, kindergarten and 1st grade)
What ages/grades are you homeschooling?
I homeschool just 1st grade currently. My son is in Special ed preschool for speech but will be joining us next year!
Waldorf Education: 4
Score for Traditional Education: -5
Score for Unit Studies Education: 17
Score for Montessori Education: 13
Score for Thomas Jefferson Education: -1
Score for Unschooling: 15
Score for Classical Education: 6
Score for Charlotte Mason Education: 23
 
What makes your homeschool eclectic?
I consider our homeschool Eclectic b/c we incorporate many different homeschool approaches depending on the subject. I mold our "classroom" based on my child's learning styles per subject. So there is some charlotte mason, traditonal and unschooling combined. Maybe some other styles too.
Have you always been an eclectic homeschooler?
It even varies from day to day! I would say for preschool we were more Montessori, for kindergarten it was boxed, Charlotte Mason approach with My Fathers World, but that style did not appeal to my daughter for every subject, especially math.
What do you think makes your homeschool unique?
My homeschool is unique right now, because technically I have one child in the public school system for preschool and another kiddo who is just learning to walk! But also, I really don't plan. I take it day by day with our lessons.
What does a typical day or week look like in your homeschool?
Mornings are PLAY, uninterrupted sibling play and bonding. I put my preschooler on the bus after lunch for preschool (he has speech and some very mild behavioral issues that have improved) and then my baby boy goes down for his nap and then my daughter and I do her lessons. Usually for about 2 hours with many breaks and conversation in between. We read aloud a LOT!
What curriculum has worked in your homeschool?
I would say the curriculum that has worked consistently for us is Singapore Math and Christian Liberty Press for Science. I sell Usborne books, so I adore their Illustrated Stories and Encyclopedias with internet links. But I also really love Christian Liberty Nature Readers.
Do you tweak curriculum to work for you? Describe how you do that.
Yes, I do tweak curriculum if need be. Typically adding books to read to the topic we are learning or lapbooks. Also, if I notice my daughter is really intrigued with something, we will do a unit study on it.
Anything else you would like to share:
We consider homeschooling a way of life, and use all opportunities throughout our day to learn.