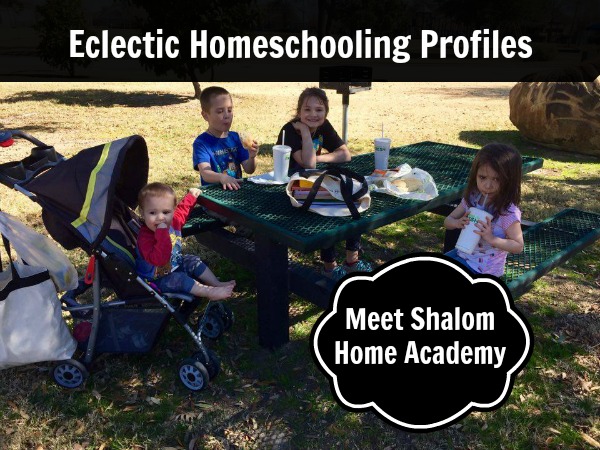 Eclectic homeschooling involves meshing different educational philosophies and methods into something that works for your family.  As a result this will look different from family to family.  We are featuring a series of interviews with eclectic homeschoolers to show how varied eclectic homeschooling can be.
Meet Shalom Home Academy!
Why did you decide to homeschool?
When my oldest daughter turned 3 I taught her how to read and eventually taught her preschool at home. At the time I was in the mind frame of preparing her for public school. When the time came to sign her up for Kindergarten I realized I couldn't bear the thought of sending her and began researching homeschool. Teaching my own children has been incredibly rewarding and the relationships I have with them are amazing. They are cool little people and I enjoy spending my days with them.
How long have you been homeschooling?
9 years!
What ages/grades are you homeschooling?
I have 4 children. Ages: 13 months, 3 year old (preschool), 7 year old (3rd grade), 11 year old (6/7th grade).
Score for Waldorf Education: 1
Score for Traditional Education: -16
Score for Unit Studies Education: 6
Score for Montessori Education: 15
Score for Thomas Jefferson Education: 5
Score for Unschooling: 10
Score for Classical Education: 13
Score for Charlotte Mason Education: 10
Use 3 words to describe your homeschool:
Jewish, eccentric, engaging.
What makes your homeschool eclectic?
The ages of my children, the resources we use, and the discussions we have.
Have you always been an eclectic homeschooler?
No. When we started 9 years ago I was extremely anxious and tried to make our homeschool resemble "school at home." Needless to say it didn't work out. We are MUCH happier being relaxed and eclectic.
What do you think makes your homeschool unique?
We are Jewish. I don't know any other Jewish homeschooling families in our area.
What does a typical day or week look like in your homeschool?
I always plan our lessons for the week in pencil because it is easy to erase. We do school 3-4 days a week, Fridays we run errands and celebrate Shabbat. In the mornings we study Hebrew, read Life of Fred, and usually read several library books that my preschooler picked out. I try to make mornings our group activity time. In the afternoons we study math, reading, grammar, logic, science, history, and geography (all strategically placed around my 13 month old's nap time.) Lessons are short, each subject usually lasts 10-25 minutes. Mondays we visit the library. My oldest daughter takes ballet, pre pointe, and tap on Monday and Tuesday evenings. My oldest son usually has cubscout activities on Tuesday evenings.
What curriculum has worked in your homeschool?
The Well Trained Mind First Language Lessons, Story of the World, Basher Science Books, several Evan-Moor workbooks covering geography, science, and grammar. Flash Kids workbooks (we love their spelling, math, and reading worksheets). Life of Fred, StarFall. And Pinterest. I get some of the best ideas from Pinterest!
Do you have any favorite homeschooling books?
The Well Trained Mind, Homeschooling Year by Year, Teacher's Planner for Jewish Day Schools & Homeschools.
Do you tweak curriculum to work for you? Describe how you do that.
Yes, especially when I plan unit studies. Since I have kids in different education levels I work hard to include them all. For Valentines Day I made a unit study that covered math and grammar. My 3 year old practiced colors and patterns with candy hearts. My 7 year old practiced graphing and addition/subtraction with candy hearts. My 11 year old practiced graphing and fractions with candy hearts. Together we worked on Valentine madlibs. My 3 year old yelled out colors. My 7 year old yelled out nouns and verbs. My 11 year old yelled out adjectives, adverbs, and prepositions.
Anything else you would like to share:
My husband is my biggest homeschool supporter and I'm thankful for him.