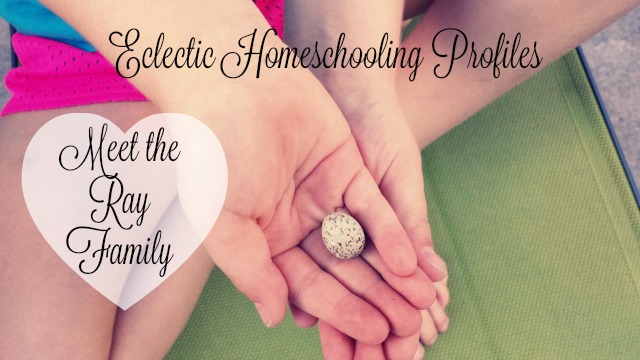 Eclectic homeschooling involves meshing different educational philosophies and methods into something that works for your family.  As a result this will look different from family to family.  We are featuring a series of interviews with eclectic homeschoolers to show how varied eclectic homeschooling can be.
Meet the Ray family!
Why did you decide to homeschool?
We decided to homeschool for a few different reasons. For one, I had felt a calling on my heart to homeschool. My daughter did attend public school for Kindergarten and first grade, and then she asked to be homeschooled as well. I knew that she would greatly benefit from an education tailored to fit her interests and needs!
How long have you been homeschooling?
This is our second year homeschooling.
What ages/grades are you homeschooling?
Our daughter is 8 years old, and in the third grade.
Score for Waldorf Education: 7
Score for Traditional Education: -20
Score for Unit Studies Education: 5
Score for Montessori Education: 18
Score for Thomas Jefferson Education: 11
Score for Unschooling: 23
Score for Classical Education: -1
Score for Charlotte Mason Education: 23
Use 3 words to describe your homeschool:
Relaxed, artistic, and interest-based. (I know that's four! Ha!)
What makes your homeschool eclectic?
What makes our homeschool eclectic is that I've taken methods from different educational philosophies and personalized our approach to fit our family. Our daughter enjoys playing math games on the computer, learning cursive, studying artists while listening to classical music, drawing, painting, working on timelines, and reading reading reading!
Have you always been an eclectic homeschooler?
At the beginning of the year, I really tried to follow Charlotte Mason's methods. Ambleside Online was an enormous and amazing help. We did this for a few months until my son was born, and then I allowed life to happen. It was at this point that I realized I had to be more relaxed.
What do you think makes your homeschool unique?
We make our homeschool unique! She learns so much even when we're not sitting at the table doing work. We don't do school at home. She sits on the couch and reads, we play games, she plays outside on pretty days with our neighbors who are also homeschoolers, and she loves on her baby brother
What does a typical day or week look like in your homeschool?
There is definitely no typical day here, but at least three days a week she will work on math, writing, and reading. She has piano lessons on Friday's. We'll watch documentaries, read living books for science and history, copy down favorite recipes from children's cookbooks she's discovered at the library, play games, draw, study great people from history, build with her dad, help cook, and sometimes all while in her pajamas!
What curriculum has worked in your homeschool?
Ambleside Online introduced me to so many great living books. I don't really think we stick to any particular curriculum except for math. We've used Math U See and Life of Fred. She loves LOF!
Do you have any favorite homeschooling books?
The Charlotte Mason Companion and all books by John Holt have helped shaped our educational philosophy
Anything else you would like to share:
I believe life is the greatest teacher of all. Homeschooling (or unschooling) has freed us to love learning and enjoy life so much!