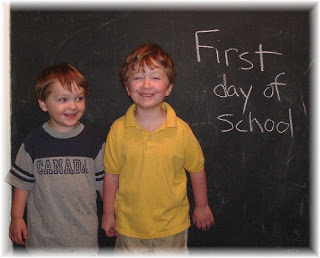 2007 was our first year homeschooling.  Time has passed quickly and our curriculum and lifestyle have changed greatly.  I started homeschooling in June of 2007 with my 5 year old.  He had previously been unschooled and craved learning so this is what I came up with for his Kindergarten year and how each area ended up working out for us.
Sonlight – History, Reading, and Language Arts.  History was a good fit.  My son really enjoyed listening to books read aloud.  Reading was okay until we reached the I Can Read It series.  I finally decided to skip those and move my son into real books and he was happy once again.  Sonlight Language Arts was too scattered for us.  We used the Kindergarten little beginning reader books, the first grade readers (except for the I Can Read It series that made my son hate reading), and some of the second grade readers.  I added Handwriting Without Tears
 and Writing Strands 1
. Writing Strands 1 was a great way to develop creativity and the thought processes that a child will need in later writing skills.  Handwriting Without Tears was difficult for my son, but it is a good program.
Phonics – Explode the Code
  It was okay, nothing great.  Phonics was an area of weakness for my son and Explode the Code helped him take off reading, but it didn't provide strong phonics skills for future spelling skills.  I think we used books 1-3 that year.
Math – Horizons and Miquon Math
.  This is a math year I'd like to forget.  Horizons did not work.   I couldn't figure out Miquon even with the Lab Sheets Annotations that is supposed to explain how to use the curriculum.  I think I accomplished establishing a dislike a math that year.  We moved to Mathematical Reasoning the next school year with much better results.  Singapore is my top choice now.
Science – This area was my son's great love even before he started school.  We used Real Science 4 Kids Pre-Level Chemistry
.  We really enjoyed this one.  I also put together a dinosaur study with different books, videos, and a dinosaur dig kit.  I purchased a weather experiment kit which ended up being pretty cheap and we rarely used it.  I also purchased an anatomy game that both of my kids loved and they still enjoy playing it nearly 5 years later.
Mandarin Chinese – Rosetta Stone Mandarin
.  This did not work out well.  My son didn't learn well with it.  I tried for 3 years!
Music Theory – The Note Family.  My son loved this.  It is a cute curriculum, but they changed how it was put together so I went with Music Ace the following year.  We are still using Music Ace Deluxe
Bible – I put together my own study with a new Bible, some DVDs, song DVD, and some workbooks.
I changed a few things as we went along and we ended up doing read alouds and unschooling the second half of the year.  That school year my schedule was a bit wild.  I schooled from about 11am-3pm and then I would work at my home business from about 3pm-4am with some breaks.  I was pregnant that school year and my son had made some great progress by mid-year and was quite frustrated with math so we went back to unschooling the last half of the school year.  I completed some testing with my son at the end of the school year to give me some more insight into how to best teach the little guy.  It helped immensely and the next school year went much smoother.  I sold my business in the middle of the next school year which enabled us to have lots of free time for projects or other subjects.
We are coming close to our five year anniversary of homeschooling.  I am learning more and more as we go.  I don't know if there is anything you can really do to prepare for this journey.  Just getting into the trenches and discovering what works for my kids has been the best teacher.  I've made many mistakes and I keep learning new things about how to best teach my children.  Just this past weekend I read a book that resonated with some ideas I have been thinking about for awhile now.  It gave me insight on how my second child learns and what to expect as he grows.  I'll probably be changing some things for him soon.  I'll need to cogitate on it for awhile first to make sure any moves we make are good ones.
Homeschooling is a lot of work.  It is challenging.  It is often thankless.  It is expensive.  It is time-consuming.  But the rewards are immense.  I find that the rewards are worth all the work involved in educating my children at home.   I realize homeschooling isn't for everyone and there are many other educational options out there, but I believe homeschooling has been the best choice for our family.