We start foreign language formally in Kindergarten.  By formally, I mean that we do formal lessons, but they don't have to look like pencil and paper tasks at a desk.  My daughter is studying three foreign languages this year – Koine Greek, Mandarin, and Arabic.  Some days she may do one or two of them.  Today she did all three languages.  We use a loop schedule so every day is different.  
For Greek I held her upside down as she sang the Greek alphabet song.  For some strange reason she finds it funny to allow me to "smell" her feet while she sings the song.  She then practiced writing two lines of gammas in her 
Hey, Andrew! Teach Me Some Greek! – Level One
 Book   This probably took about 10 minutes total.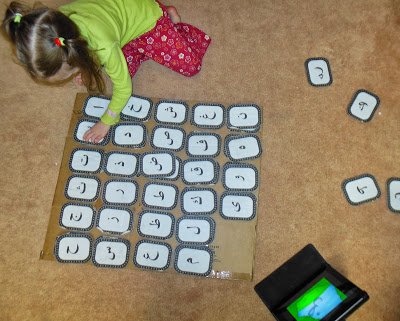 Here is a picture of her Arabic time today.  She is learning the Arabic alphabet.  I played an alphabet song on the iPad and she sang along as she matched the letters to a "board" where the matching letters were glued on.  She did this two times and it probably took 15-20 minutes.  She also watched an episode of Arabian Sinbad at breakfast.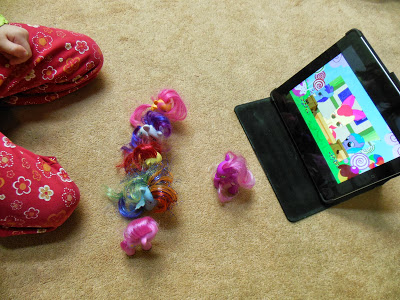 For Mandarin we were joined by My Little Pony characters.  She had been playing with her My Little Pony toys today and they were nearby when it was time for Mandarin.  We usually practice Mandarin conversation with a few toys participating.  She wasn't too keen on having her My Little Pony toys talk in Mandarin so I found
an episode of My Little Pony in Mandarin on Youtube
.  It started with the ponies at school with Ms. Cheerilee so we gathered the necessary characters and set up a little school setting with the toys.  When I recognized a word in the show that corresponded with some of the things we had practiced, I stopped the video and we practiced conversation by making the toys talk.  I resumed the video and stopped it again for practice a couple other times.  A good chunk of the time I was helping my older child with a logic problem while she was watching alone.  She had watched the episode in English many times so she knew what was going on.  The show was close to 30 minutes long, but we probably practiced conversation about 10 minutes all together.  (Psst…I had a sheet a paper next to me so I wouldn't forget vocabulary).  At lunchtime she watched a Little Bear show in Mandarin too.
My daughter is learning a couple new alphabets and the sounds that the letters make.  This could be confusing to some children if the foreign language has an alphabet similar to English or if the child's reading skills are still emerging.  In that case, doing a conversation-focused foreign language would be the best choice until the child's reading skills are strong in English.  So far I haven't noticed any confusion with Greek letters and Arabic letters.  She won't start reading them this year.  This year we are focusing on the basics of the alphabet and learning the sounds the letters make.  For Mandarin we are mostly conversational, but she does occasionally sing along to a pinyin song where she sees English letters.  I'm not having her learn the names of the pinyin letters yet because they are the same as English.  
I see that there are many more Mandarin My Little Pony videos on Youtube.  I know they have Arabic ones as well.  We shall have to make use of them.