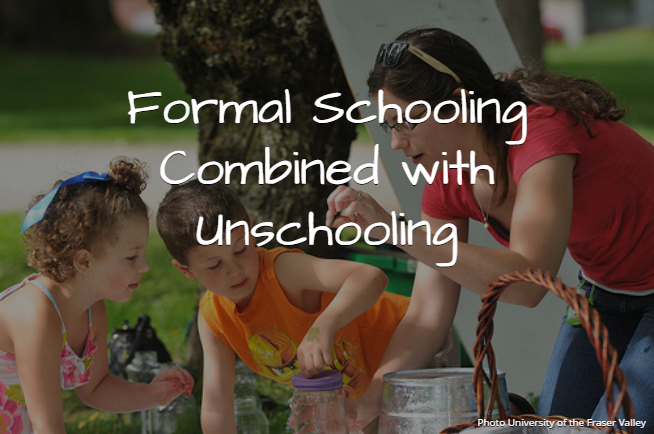 Formal schooling and unschooling don't often go together.  In fact, they often are perceived as opposites.  However, I've found that formal schooling and unschooling can work well together.  For many unschooling is defined by the absence of formal schooling.  My definition of unschooling is somewhat different.  I define unschooling as an informal child-led learning experience.
You could probably say that I have unschooled my children since birth.  A young child is a little sponge eager to soak up the world around him.  Little conversations, playtime, and day to day experiences are valuable learning times.  But formal schooling has a place in our household too.  When my children were Kindergarten age I started them on formal schooling.  By formal schooling I mean teacher-directed activities of certain subjects like reading, math, and history.  Because they are teacher-directed doesn't mean they are devoid of playtime and conversations though.  I like to mesh unschooling into our formal learning.  How?
I mesh unschooling into our schooling in a couple ways.  First of all I try to make our teacher-directed time full of hands-on activities, interesting books and videos, and conversations.  While this is a work in progress it has made our formal time a little less formal than sit-down-at-the-table-and-do-your-work type of schooling.  We do have some sit down work, but I try to keep that to a minimum.  Secondly, I try to mesh unschooling into our formal schooling by introducing interesting topics.  We explore topics in depth and find that when we do so, my children are more apt to study that topic on their own outside of formal school time.
For instance, last week we watched a DVD on viruses for our science class.  My son looked at the back of the DVD case and saw that there were more videos in the series.   My son requested them and a trip to the library solved that.  As I emptied the library bag I showed them the DVDs from the library and placed them on a table letting them know that they were available to watch.  While we were done with the topic for our formal school time, my boys have already watched two more of the videos in the series because they are interested in the topic.  We explored the topic in depth during our formal school time, but there is never an end to learning.
So I find that unschooling and formal schooling go well together.  They don't have to be opposites.  In our household unschooling seems to help my children learn and develop interests than can be explored further in formal learning.  Teacher-directed learning seems to help my children develop new interests that they explore outside of school hours.  I don't think there is one right way to do things.  Every child and every family are different.  For our family, both unschooling and formal schooling have been wonderful ways to learn.