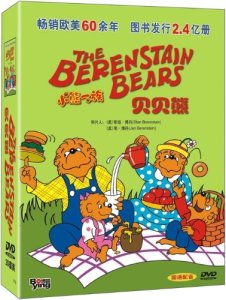 Last night I ran across some excellent Mandarin videos for kids that have been recently posted on Youtube.  These were put together by a parent who is helping his kids learn Mandarin.  The carefully crafted Berenstain Bears cartoons are designed for native English speakers learning Mandarin.  These aren't just Mandarin cartoons, they have English too.  The English on the cartoons is played very quickly to give the native English speaker knowledge of the content before the same exact portion of the show plays in Mandarin.  The show goes back and forth between a fast forwarded English scene and the same scene in Mandarin at the correct speed.  As a bonus, Mandarin subtitles are used on the Mandarin portion of the video.  My kids watched a couple of them today and we will be watching more!  If you prefer DVDs, the Mandarin version of Berenstain Bears is available on Amazon.
Here is one of the Youtube versions:
Visit Mandarin Dad's Youtube channel for more!