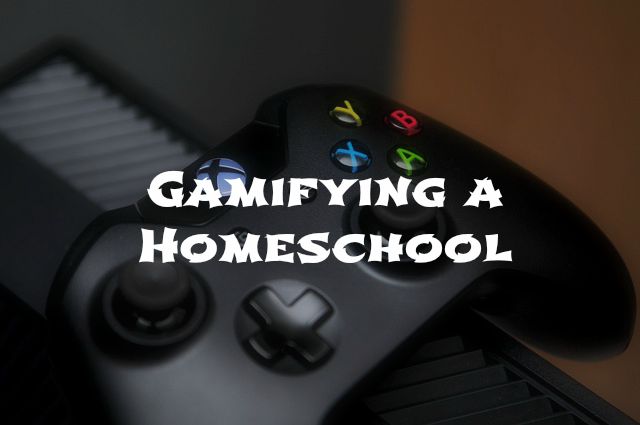 Gamification, is that a word?  My boys like videos games, so a couple of years ago I did an experiment and gamified our homeschool.
The idea started when I read an article (updated article) that talked about gamifying your classroom.  Basically, you turn your classroom into a giant video game without the video.  Students can earn badges and move up levels and earn points.
As I read it, I remembered how much my son loved earning badges.  One weekend when I discovered Khan Academy's Knowledge Map with badges, I told my son about it.  That afternoon he spent 5 hours doing math and earning badges on Khan Academy.  He was not a kid who would spent time working on math in his free time at all.  So when I read the article about gamifying a classroom, I decided to give it a try.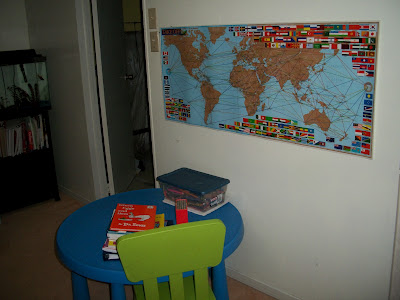 I spent several days thinking about this and how I could get this to work for us.  I didn't want to do anything too complicated and I needed to keep it low-tech since I didn't have the time and know-how to figure out how to get this set up on the computer.  I had to think of a theme with an overall goal and base our "game" on that.  To keep it simple I pulled out a game I already owned.  I used the Take Off game.  You can see a picture of the game board on this wall in our school room.
I reviewed Take Off on this blog several years ago if you are interested in more details about the game.  Basically, it is a geography game where you travel across the world.  I set it up so over the course of the school year all 3 of my kids were supposed to move their 8 avatars (game pieces) across the game board.  They started the year with 1 avatar and could choose additional avatars when they achieved a certain number of badge points.
For the avatars I went with things that interested my kids so I ended up with avatars related to the Lord of the Rings, Star Wars, and Mario.  My boys sat down at the computer with me and chose avatars before the school year started.  I cut and pasted pictures of these items and printed them out on heavy glossy paper at Staples.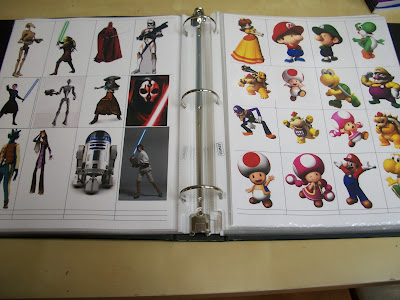 I have them all in clear page protectors and cut one out when the child chooses one.  My child then takes the avatar and tapes it on his poster board.  I used little post-its next to the avatar to keep track of the location of the avatar on the game map.  In hindsight, post-its weren't the best choice because they kept falling off of the poster.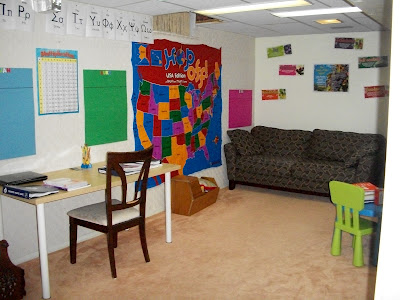 Here you can see the posters I have set up for each child.  I just drew a black line near the top to separate the avatars from the badges.  Can you say low-tech?
Getting the badges together was fun.  My badge loving son chose them all.  I divided them into 6 levels and set up how they can earn them.  This took a little time on my part, but I basically took what we were doing throughout the year and made mini-goals.  If it was a workbook, it was rather easy.  For example, if they reached page 100 they would earn a level x badge.  Here is an example of some of the badge levels I set up for one child.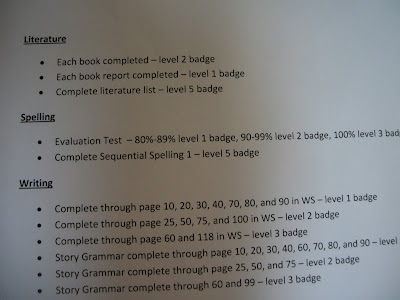 As you can see for literature I have a few badges, but not too much.  For spelling I worked out badges according to the test score.  Most badges are earned through just progressing through the materials.  Level 1 badges are easy to attain and each child will likely earn a couple each week.  Level 2 badges are more rare and a child may get a couple per month.  Level 3 and 4 badges are usually earned after quite a bit of work is completed in the school year.   Level 5 is for major goals for the school year.  Level 6 badge is left as a mystery.  My kids do not know how to get it.  I have it preset and when a child achieves it, it will be a big deal.
I used a lot of smilies and badges from Icon Archive to choose the badges.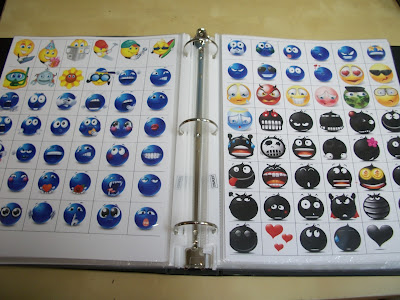 These are all level 1 badges.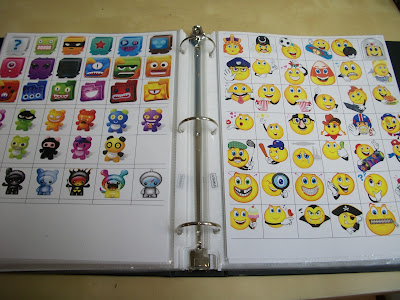 Here you will see level 4, level 5, and level 6 badges on the left and more level 1 badges on the right.  Each child has their own set of identical badges.  I put them on a Word file and printed them off at Staples on thicker glossy paper.  This whole gamification thing ended up costing about $10 for everything.
I associated the badges with the game by having my child take 1 turn after getting a level 1 badge.  A level 2 badge would get them 2 turns in the game, while a level 3 badge would get them 3 turns in the game.  You get the idea.
Now for the big questions.  How did it work out?  Would I do it again?
My kids really enjoyed it and would love to do it each year.  However, it was a time-hog.  It took time to choose a badge, cut it out, put it on the board, and take a turn in the game.  I am usually working with one of my children during the school day so this led to many interruptions.  I changed things so we would set aside some time and do everyone's badges at once.  That was a little better, but it could take up to 45 minutes to process everyone's badges.  Maybe low-tech wasn't the answer, lol.  I could see this method working beautifully for a younger child or for someone who is only homeschooling one child.  If I were to try this again, I would have to simplify it so it was not so time-intensive.
Have you ever tried gamification?  Would you?