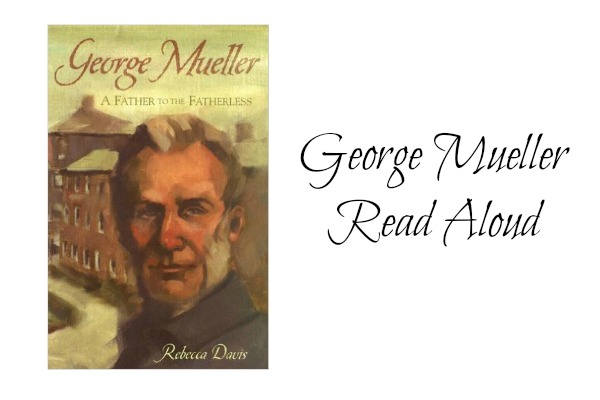 George Mueller: A Father to the Fatherless by Rebecca Davis is a book I just finished reading to my boys. I read this book to my son two years ago and it deserved another reading.
George Mueller was an amazing man of God.  The book takes you on a journey through George Mueller's life from boyhood until death. George Mueller was a man who believed God answered prayers. His faith in God changed the lives of thousands of orphans and countless people around the world who saw the work of God work in His life.
I not only like to read this book to my children to give them an understanding of a great man of God, but I also read it to teach them how God answers prayers.
Here is a brief description of the book:
"These dear little ones know nothing about our great need," wrote George Mueller in his journal. "They do not know if we have much money in the bank or nothing at all. They always have good nourishing food and the clothes that they need."

For about seven years the little children ate their meals one prayer at a time. Never, never, did any of the orphan children go without a meal. This biography for young readers explores the life of one of the most remarkable men of faith and prayer known outside of the Bible. But Mr. Mueller would want neither praise nor attention. He would want all the glory to be given to God.
I highly recommend it for a read aloud or a reading book.