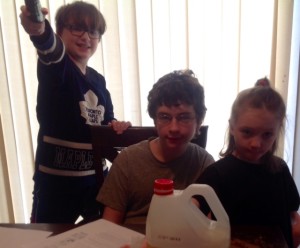 The voting in our Greek entree competition has closed and we now have a winner. This was the first round in our cooking competition.  I use the word competition loosely.  While my kids enjoy coming in first place, they also vote for a sibling's dish if they feel it was better.  The competition aspect just makes things a little more interesting.
Each child is judged according to taste and looks.  The winner for the appearance portion of the contest was determined by online votes.  Pictures of their final creations can be found here.
The results for the best tasting Greek dish: (Click on the links to see the recipes used)
1st place was the Favorite Meat Loaf Gyros by my 11 year old.
2nd place was the Mediterranean Phyllo Pastry Chicken (adapted) by my 13 year old.
3rd place was the Greek Grilled Cheese by y 6 year old.
The votes for the best looking Greek dish were as follows:
1st place with 46 votes – Mediterranean Phyllo Pastry Chicken
2nd place with 27 votes – Favorite Meat Loaf Gyros
3rd place with 21 votes – Greek Grilled Cheese
Points are assigned for each category and a total number of points are tallied for the entire competition.  At this point here are the standings:
Tie for 1st place – 13 year old 5 points
Tie for 1st place – 11 year old 5 points
3rd place – 6 year old 2 points
Their next contest? Mexican food!