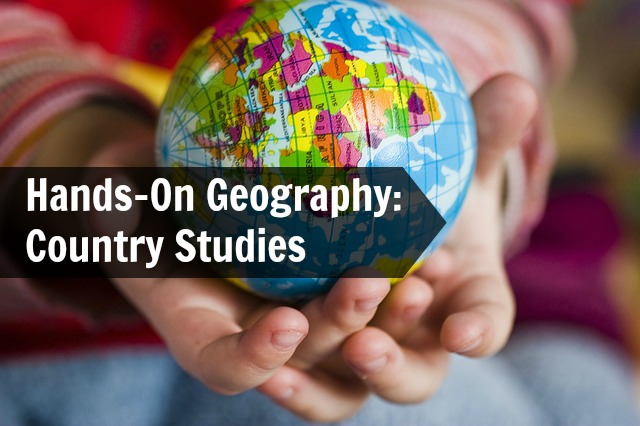 When my children were young we enjoyed spending a lot of time exploring other countries with hands-on activities. Kids just seem to like getting their hands busy with doing something as they learn. As my kids have grown older, the need for hands-on activities has lessened.
We like to finish up a country study by trying food from that country.  When my boys were in 2nd grade and Kindergarten we finished up a unit study of Ukraine by making Chicken Kiev with mushroom sauce, paska bread, potato cheese and bacon pirogies, vegetarian cabbage rolls, holushki, apple cake, and cruellers.  Normally, we only make a couple things, but we were in the mood to do a lot of food prep at that time.
I did most of the preparations, but my boys helped.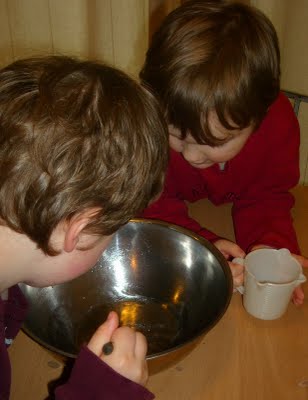 Here the boys are watching the sugar dissolve in water before they added the yeast for the paska bread.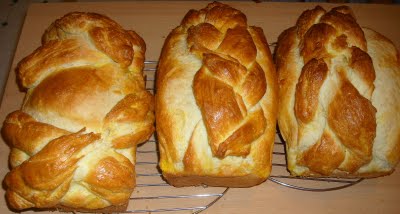 Here is our paska bread. I didn't have any round loaf pans so I used regular bread pans. The recipe said that they can be decorated with braids or crosses so I tried 🙂
The apple cake that we made was more like a coffee cake.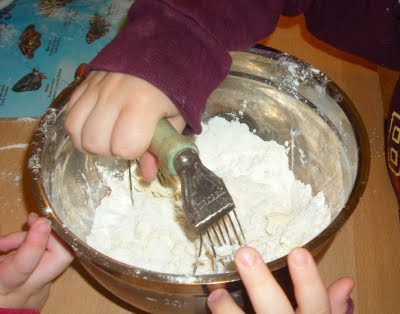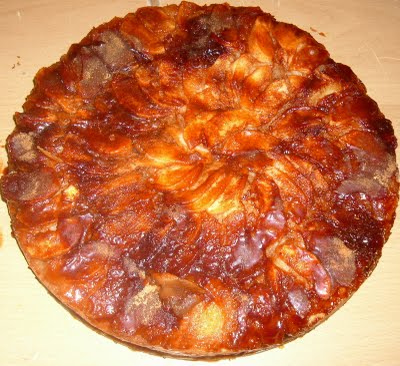 Here is the finished apple cake. Apples were cut in small pieces and layered on the top and then sprinkled with sugar and cinnamon and butter.
The cruellers were fun to make.  We made the dough and shaped it into donut shapes. I should say donut-like shapes since some were made as triangles and rectangles, and we even had a space shuttle shaped crueller.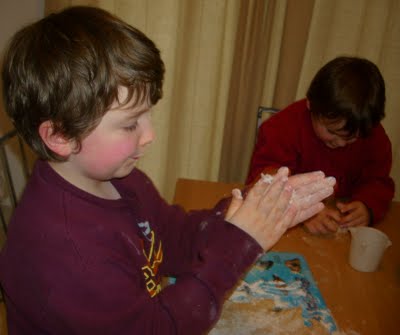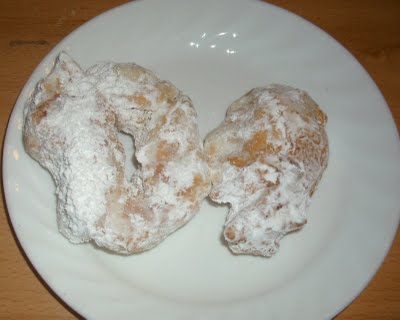 Once fried and covered with powdered sugar, the cruellers were ready.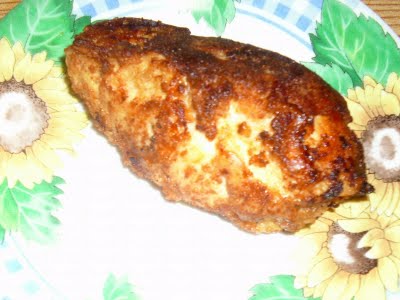 Chicken Kiev with mushroom sauce (sauce not pictured)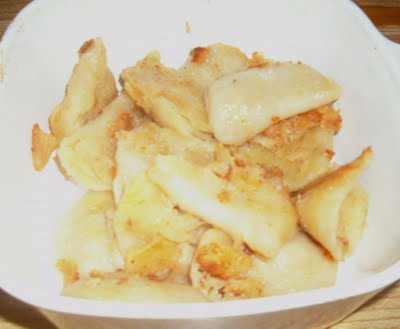 Potato, Cheese, and Bacon Pirogies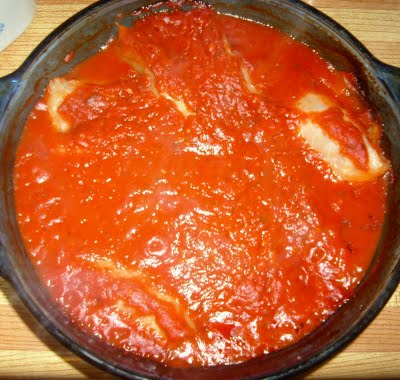 Vegetarian cabbage rolls stuffed with rice, cheese, onions, mushrooms, and eggs.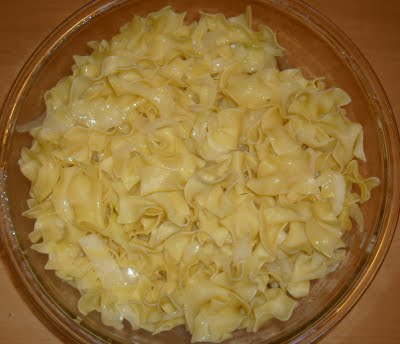 Holushki – Noodles with Cabbage
It took awhile to prepare all the items. The boys helped with the cabbage rolls, paska bread, apple cake, and the cruellers. My seven year old declared the chicken to be the best and my five year old liked the noodles with cabbage.
Following the meal my boys dressed into their Ukrainian costumes which were basically my clothes and my husband's socks. They designed some embroidery on a piece of cardboard that was tied around their neck. Those didn't last long because comfort was more important.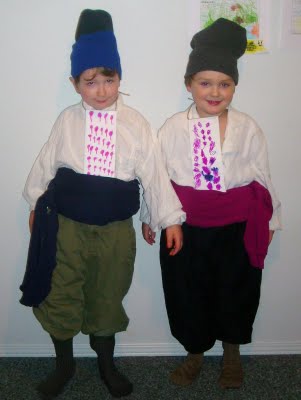 Once their costumes were on we played two games that we had practiced earlier. We practiced fire jumping for Kupala. We set up some Melissa and Doug blocks and the boys had to jump over them.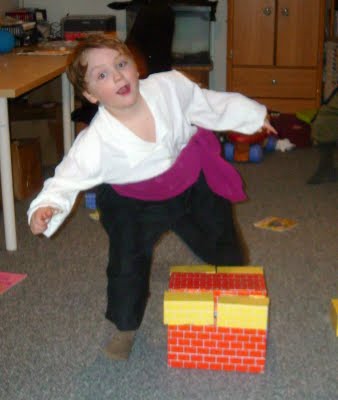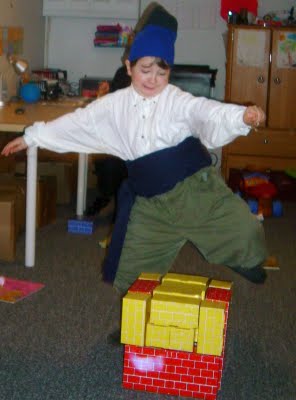 Following our practice of "fire" jumping they enjoyed the game of Old Woman Kutsia. For Old Woman Kutsia the player is blindfolded and must find other players that are calling out "Old Woman Kutsia."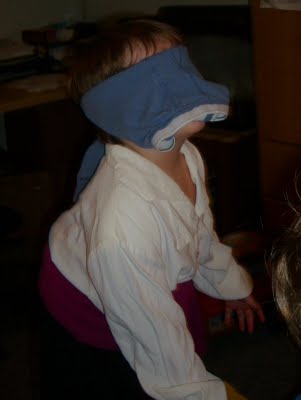 For our study of Ukraine we read stories about Ukraine, explored family history in Ukraine, looked at the geography, watched and listened to Ukrainian music and dancing, watched Ukrainian TV, learned about the Ukrainian flag, made pysanky eggs, watched videos tours of Ukraine, went to a local Ukrainian festival, played Ukrainian games, ate Ukrainian food, wore Ukrainian costumes, and explored the Ukrainian language. Why so much?
Why did we spend six weeks studying just one country? Because it sticks. My kids will always remember Ukraine. They may not remember the names of cities or how to say a phrase in Ukrainian, but they will retain a love the the country and the people.  Over the years we have explored the countries of Greenland, Scotland, USA, Canada, Ukraine, Italy, India, China, Sri Lanka, Thailand, Iran, Israel, Saudi Arabia, Morocco, South Africa, Ghana, Sudan, and Tanzania.  This year we are exploring several Latin American countries.  Over the years country studies have helped my kids gain a greater understanding of the world in which they live.