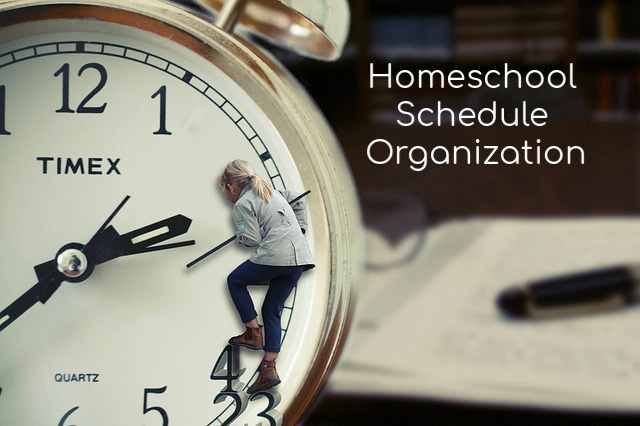 This is my third year homeschooling and I've tried a different type of schedule each school year so far.  Each of them have their good and bad points.
First year homeschooling:
In our first year I started with Sonlight for history and language arts.  I added some curriculum from other sources that I entered into Sonlight's pre-made schedule.  Sonlight had everything planned out for me so I knew what to do on each day.  This was a good way to get the homeschooling ball started.  At that time I needed a organizational system that was not time consuming.  Since this was mostly set up for me I was all set.  But as the year progressed I found following someone's preset schedule to be a bit stilted.  I varied it some, but it didn't feel like a good fit.
Second year homeschooling:
For our second year homeschooling I decided to put together my own unit studies.  I gathered books and materials I wanted to use wrote down a general list of what I wanted to include in my unit study.  I decided to track school hours instead of having a set schedule.  I broke down the subject areas into the total number of hours I wanted to spend on each subject for the entire school year.  When it came time to do school I could choose from any subject and spend as much time as we needed.  I would then keep track of the time used.  With only a time frame as a guide I had great flexibility.  At the same time I found that not having everything planned out made it more difficult to pull some things together.  I found this option to fit us much better than the premade schedule we used in our first year.
Third year homeschooling:
For our third year homeschooling I continued with unit studies.  However, this year I planned everything out.  I planned out every hour of our school year for both boys.  Click here to see a sample week.  While the great deal of flexibility from our second year is no longer present, we are still free to adjust the schedule and do things out of order.  We can still do two days worth of math at once if we wish.  The problem with this set up is that sometimes I had to guess at how long something would take and my guess was not always correct.  This isn't a big issue though.  I find that our schedule this year suits us the best so far.  I have just started to think and plan for next school year.  I'm sure we will be tweaking things a bit more next school year to see if we find something fitting us even more.