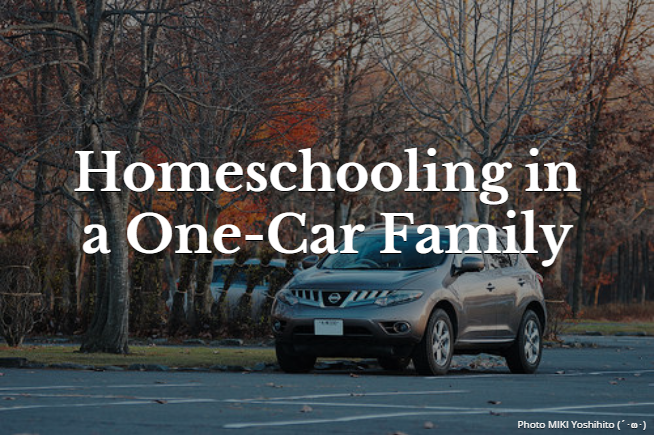 We have been homeschooling for 8 years now and each year we have only had one car.  Being out and about most days is not a workable option for our family.  But we have found some ways to make it all work.
Take spouse to work and pick him up
This may be an option for many households depending on the length of your spouse's commute and work hours.  My husband finishes his work day after 10:00 pm so dropping him off and picking him up at the end of the work day is more complicated.   He goes to work mid-day.  If we need the car, we drop him off and pick him up around dinnertime.  He comes home, drops us off, and heads back to work.  This is a time-consuming option for all of us.  I have to allow an hour for each drop off and pick up.  Plus it interfers with my  husband's work day.  We do use this option, but only occasionally or for an important activity.
Invite friends over to play
We have found that many other families are willing to come to our house for a playdate or go to a park that is within walking distance for us.  Sometimes it takes a bit more effort on my part and my children's part to get the house ready for guests, but it is worth it.
Take advantage of weekends and days off work
Most of our field trips have taken place on the weekend or on a day my husband isn't working.  On weekends my kids regularly attend a class at church for their age-level too.  All of my kids are currently in swim lessons and those lessons take place on my husband's day off.
Work around spouse's work hours
My husband has one weekday off so we often have access to a car on that day.  I also tend to make vision, dental, and doctor appointments in the morning because my husband doesn't need the car until 11:00 am.  Some families may have more flexibility in the evening.
Our access to a vehicle has varied through the years.  Some years, like this year, I have lots of access to a car with it being available one weekday and in the mornings.   Other years have been much more limited.
If your access is quite limited, focus on what you can do and don't sweat the rest.  The current cultural norms of having your kids in tons of activities wasn't always standard.  There is much to be said for lots of downtime too.