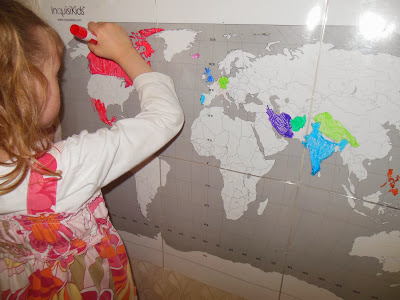 We have a great selection of DVDs at our local library.  This school year my Kindergartner is learning about the world by reading books and watching videos of people around the world.  Before watching a DVD we head over to the markable wall map and she colors in the country.  The colored in areas are all represent DVDs we have already watched.  I think my daughter's favorite so far is Iceland.  That's my girl!
These are the DVD series that we have enjoyed the most so far:
Each DVD in the series is about 30 minutes long and it covers two families in a specific country.  One family lives in a country location and the other lives in the city.  The DVD shows you what a typical day is like for each family.  My library doesn't have all of the series, but it does have a good chunk.  I see that they are also available on Youtube for about $3.00 per video.  The series covers the countries of Afghanistan, Australia, Brazil, Canada, China, Costa Rica, Egypt, France, Germany, Ghana, Guatemala, India, Israel, Italy, Japan, Kenya, Korea, Mexico (2 different ones), Panama, Philippines, Puerto Rico, Russia, Sweden, Thailand, United Kingdom, USA, and Vietnam.
This cute series features two little girls who are traveling to different countries.  Each DVD features one country and shows the girl's adventures with the local culture and traveling around to different places in the country.  These DVDs are a little longer – around 45 minutes to an hour.  They currently have five different DVDs covering Japan, Bali, Iran, British Isles, and Germany.
This unique series features kids who live on a farm in different places around the world.  These short DVDs are only about 15 minutes long.  It demonstrates what a typical day is like for a child in that country.  There are DVDs for the USA, Guatemala, Madagascar, Portugal, Austria, Algeria, Iceland, Sweden, Finland, Mongolia, Estonia, Australia, Greece, Vietnam, Canada, Peru, Romania, South Africa, Bolivia, Venezuela, Ireland, Argentina, Norway, Denmark, and Myanmar.  These videos are some of my daughter's favorites.
Click here to view our Cultures Around the World Study.