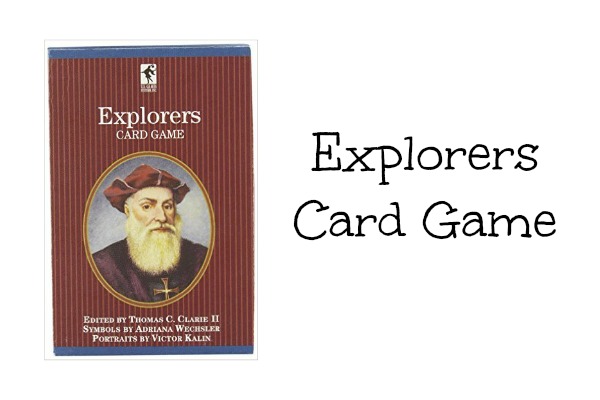 Last year I planned on taking my children through a study of explorers on North America. But when we moved to Canada I decided to put the study of the USA off for a couple years until I could present both Canadian and US History together. But I had already purchased a few items I had intended to use for our study on explorers. One of those items was a game called Explorers Card Game by US Games Systems, Inc.
It is basically a set a playing cards with pictures of the explorers on the cards. It comes with Alexander the Great, Samuel d Champlain, Christopher Columbus, James Cook, Vasco da Gama, Sir Francis Drake, Leif Ericson, Sieur de La Salle, Lewis & Clark, Ferdinand Magellan, Robert Peary, Marco Polo, and Stanley & Livingstone.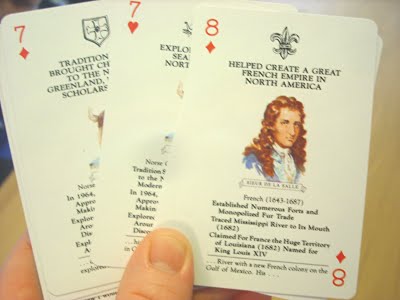 Here you will see what the cards look like. It gives a picture of the explorer along with the dates and accomplishments. The game has four of each explorer. At the bottom of the picture is a sentence about the explorer that can only be completed when you have all four cards.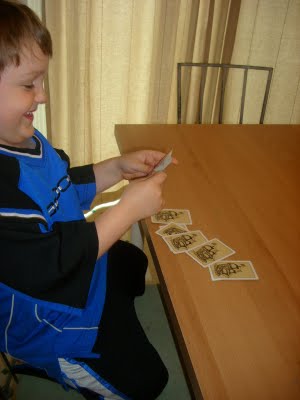 Because these are playing cards you can use these any way you can use playing cards. We used them to play Go Fish or Go Explore. Maybe by the time we actually study explorers my boys will already know a great deal from just playing this simple game. The Explorers Card Game was definitely worth the five dollar investment.