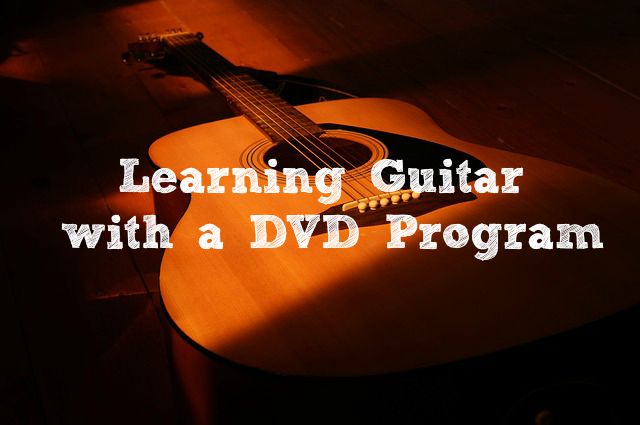 When my oldest son was almost 9, we purchased a guitar and a DVD program for him to start learning how to play.  I started him out in the Alfred's Kid's Guitar Course
 and required him to practice 10 minutes per school day.  I realize 10 minutes isn't very much, but it was at a good pace for him.  The course was a pretty good fit for him and when he started to get toward the end of the book about a year later I looked for another one and decided on Mel Bay Modern Guitar Method Grade 1
.  I've increased his practice time 5 minutes each year and now at age 11 he is practicing 20 minutes each school day.
My younger son is now 9 and is practicing 10 minutes each day.  I started him off in Alfred's Kid's Guitar Course
, but some of the fingering was a little too difficult for him.  There was a 3 finger chord that he just couldn't get after lots of effort so I switched him to the new book my older son is using now.  He is now using Mel Bay Modern Guitar Method Grade 1
 and going slow.  The fingering is easier and they are focused more on the notes than the chords.  The individual notes have been easier for him.
We have a "music lesson" once every 10-14 days where I sit and listen to what they have been practicing since our last lesson.  While I'm not a guitar player, I give feedback regarding things like the tempo and help them break down more complex tasks into steps.  After I listen to the guitar playing I give them their assignment for next time.  If they have mastered songs on a page, I'll add another page of harder songs.  If the songs are not mastered they will just continue to do the same songs.  Some music theory is covered in the books, but we started music theory a few years before they started playing guitar so I have found my boys tending to skip those parts – at least for now.  We used Music Ace Deluxe
. It is a fun computer program that teaches music theory step by step and it has a fun composing tool that allows you to create your own songs.
Yesterday we had a "music lesson" and I caught a brief video of my oldest son playing a song about 1/3 of the way through Mel Bay's book.