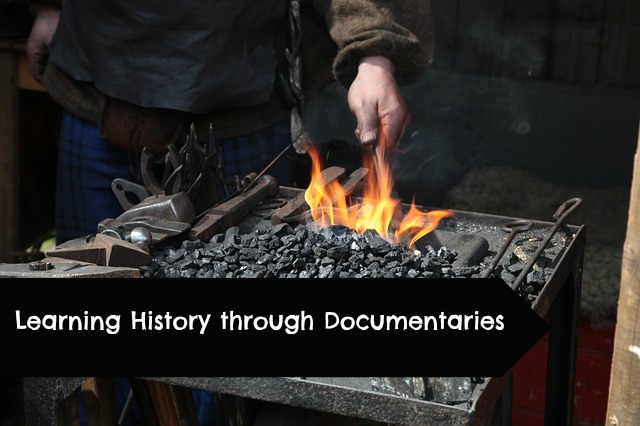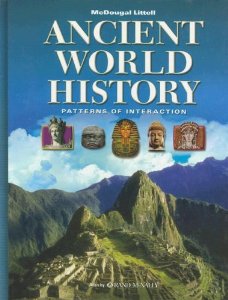 This coming school year I'm going to be using a textbook for a spine for reading and as a topical guide to documentaries.  At the end of last school year I met with each child and both of my boys made requests about history.  My 4th grader told me how much he learned by watching documentaries or movies.  My 6th grader enjoyed the Teaching Company lectures this past year on ancient Rome and wanted to continue to use them.  When I sat down to plan our history this year, the library didn't have the right combination of Teaching Company lectures and it was going to be a little difficult to piece things together with what they had.  When I asked him if he preferred Teaching Company lectures or documentaries, he quickly said documentaries.  Because they are both on the same page, I am pretty much having them do history together this year.  With the amount of documentaries on this list, I'm doubting we will finish this list in one school year.
Our spine will be the McDougal Littell World History: Patterns of Interaction: Ancient World History
textbook.  The page numbers correspond with the 2005 edition.  We ended the last school year learning about the end of the Roman Empire.  We are just doing a little bit more to finish up before we transition to other times and places.
Because my boys may be younger than the suggested age for the documentaries, I will likely preview them all beforehand.  I put in parenthesis the time each video should take to help me know how much to cover in a time period.  The Barbarians videos are also on Youtube, but I know my library has a copy as well so I didn't need the link for them.  Each bolded area refers to a section of the textbook with the exception of the Celts and the Vikings.  We hadn't covered them previously so I added in those two topics using living books instead of my spine.
End of Roman Empire
Watch The Roman Empire – First Christian Emperor (60) http://www.youtube.com/watch?v=ALlmUubRtmI
Read Ancient World History pg175
Watch Barbarians: The Goths (45)
Watch Barbarians: The Huns (45)
Watch Barbarians:  The Franks (45)
Watch Barbarians: The Vandals (45)
Watch Barbarians:  The Saxons (45)
Celts
Read Everyday Life of the Celts by Grant (4th grader)
Read The Ancient Celts by Calvert (6th grader)
Read Step Into: The Celtic World(4th grader)
Read The Celtic Art Source Book– copy and color Celtic design(both)
Read Life of the Ancient Celts(4th grader)
Genealogy Niadh O Halil child of Cu Cork Mac Morha  – group sheet/pedigree sheet/or just explore (6th grader)
Watch The Celts: A Journey Back in Time (50)
Watch Ancient Warriors The Celts (20) http://www.youtube.com/watch?v=JdE1wKUtrGE
African Civilizations
Read Ancient World History pg 210-231
Watch Engineering an Empire – Carthage (60) http://www.youtube.com/watch?v=HetYXwtCCho
Watch Nubian/Kushite Burial Rituals (50) http://www.youtube.com/watch?v=M71kXaxbZwk
Watch Lost Kingdoms of Africa – Ethiopia (60) http://www.youtube.com/watch?v=ivy91iqHtKY
Ancient Americas
Read Ancient World History pg 232-251
Watch Secrets of the Ancients- The Olmecs (60) http://www.youtube.com/watch?v=dVKGQAjiug8
Muslim World
Read Ancient World History pg 260-297
Watch Islam Empire of Faith part 1 The Prophet Muhammed and the Rise of Islam (60) http://www.youtube.com/watch?v=yX3UHNhQ1Zk
Watch Islam Empire of Faith part 2 The Awakening (60) http://www.youtube.com/watch?v=X1PxJomypQE
Watch Islam Empire of Faith part 3 The Ottomans (60) http://www.youtube.com/watch?v=iI7Qkcyz3tM
Byzantines, Russians, and Turks Interact
Read Ancient World History pg 298-306
Watch Byzantine Empire http://www.youtube.com/watch?v=N238vCzUMv4
Read Ancient World History pg 307-313
Watch the Varangians http://www.youtube.com/watch?v=X4_r-IySNKM&list=PLD257969E1362D2B6(30)
Watch Barbarians Vikings http://www.youtube.com/watch?v=T1yAxo94ClU(45)
Read Ancient World History pg 314-319
Watch the Ottomans https://www.youtube.com/watch?v=xnIvxXnFPnI(60)
Vikings
Read Viking (DK Eyewitness Books)
Read The Vikings: Dress, Eat, Write and Play Just Like the Vikingsby MacDonald
Read The Vikings (Technology of the Ancients)by Trueit
Read Vikingsby Bedford
Watch Vikings Who Were the Vikings (60) http://www.youtube.com/watch?v=EhYVHlEnZPU
Watch Vikings the Trading Empire (60) https://www.youtube.com/watch?v=WKHgo8RzgG4
Watch Vikings The End of a Viking Age (60) https://www.youtube.com/watch?v=fSunpvXQMuI
Empires in East Asia
Read Ancient World History pg 320-329
Watch Tang Dynasty (60) https://www.youtube.com/watch?v=OQsZe-wNN8Q
Watch Song Dynasty (60) https://www.youtube.com/watch?v=j5LzyOAWVfo
Read Ancient World History pg 330-338
Watch Barbarians The Mongols (45)
Watch The Secret History of Genghis Khan https://www.youtube.com/watch?v=J1Jq-C3Q3Z4(45)
Watch The Mongol Empire http://www.youtube.com/watch?v=elK86uOHdXE(50)
Watch Marco Polo http://www.youtube.com/watch?v=4D96iA3OQN8(45)
Read Ancient World History pg 339-343
Watch Lost Treasures of the Ancient World – Japan (50) http://www.youtube.com/watch?v=i9ObeuCWhiE
Read Ancient World History pg 344-349
Watch Angkor Wat from Khmer Empire https://www.youtube.com/watch?v=1VgFVb7S1l0(50)
European Middle Ages
Read Ancient World History pg 353-357
Watch The Dark Ages (90) http://www.youtube.com/watch?v=KsHSbBxjAOk
Read Ancient World History pg 358-375
Watch Medieval Lives Peasant http://www.youtube.com/watch?v=Yg3YDN5gTX0#at=329(30)
Watch Medieval Lives Monk http://www.youtube.com/watch?v=H7kixg7E3Pk(30)
Watch Medieval Lives  The Damsel http://www.youtube.com/watch?v=wL5CviNAhnk(30)
Watch Medieval Lives  The Minstrel http://www.youtube.com/watch?v=7LyuIVZk5FM(30)
Watch Medieval Lives The Knight http://www.youtube.com/watch?v=NhWFQtzM4r0(30)
Watch Medieval Lives The Philosopher http://www.youtube.com/watch?v=ZTf2EzTd1TE(30)
Watch Medieval Lives The Outlaw http://www.youtube.com/watch?v=T9GsccLoLvY(30)
Watch Medieval Lives The King http://www.youtube.com/watch?v=vYLXlbE6Ly4(30)
The Formation of Western Europe
Read pg 376-386 Ancient World Hisotry
Watch Crusades – Holy War (60) http://www.youtube.com/watch?v=EQZqhUmVx-c
Watch Crusades – The Clash of Titans (60) http://www.youtube.com/watch?v=v4tSks-R7QQ
Watch Crusades – Victory and Defeat (60) http://www.youtube.com/watch?v=PkMR0ENNMLQ
Watch Crusades – Destruction (60) http://www.youtube.com/watch?v=YYkfbY0d90s
Read Ancient World History pg 387-397
Watch 1066: Battle for Middle Earth part 1 http://www.youtube.com/watch?v=PnC6l6_TaMA(75)
Watch 1066: Battle for Middle Earth part 2 http://www.youtube.com/watch?v=NPnCt0IktfQ(75) (Skip 37:00-38:00)
Watch Monarchy- Medieval Monarchs http://www.youtube.com/watch?v=RyQsBAng4_0(60)
A History of Scotland:  The Hammer of the Scots http://www.youtube.com/watch?v=GNRevRRiALg
Read Ancient World History pg 398-405
100 Years War Battle of Agincourt https://www.youtube.com/watch?v=UHghxvCYRv8
Joan of Arc movie https://www.youtube.com/watch?v=NFWX0gQ5zTs
Watch Medieval Apocalypse – The Black Death http://www.youtube.com/watch?v=hDIgFeMbnIc(50)
Societies and Empires of Africa
Read Ancient World History pg 408-412 Watch Lost Kingdoms of Africa – The Berber People of Moracco (60) http://www.youtube.com/watch?v=ZYo8FEYkfFs
Read Ancient World History pg 413-421
Watch Lost Kingdoms of Africa – West Africa (60) http://www.youtube.com/watch?v=Je0K0BAJ1hY
Read Ancient World History pg 422-435
Watch Lost Kingdoms of Africa – Great Zimbabwe (60)
People and Empires in the Americas
Read Ancient World History pg 438-445
Watch Who Were the Mound Builders https://www.youtube.com/watch?v=itCWu-m-23E(35)
Read Ancient World History pg 446-451
Watch Cracking the Maya Code https://www.youtube.com/watch?v=5yTC23Zyefs(55)
Read Ancient World History pg 452-458
Watch In Search of History – The Aztec Empire http://www.youtube.com/watch?v=tP2HHYQjN7E(45)
Read Ancient World History pg 459-467
Watch Secrets of Lost Empires – Inca http://www.youtube.com/watch?v=pcYDwWRG9IY(55)