We are learning to read and write basic Arabic this school year using the Alif Baa
 curriculum.  The Alif Baa curriculum is not made for kids, but it is the best curriculum I could find.  So basically I read the textbook and teach it to my children.  The Alif Baa curriculum comes with a DVD with exercises, drills, and instructions on how to write letters so my children get the proper pronunciation each time.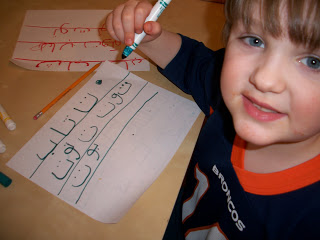 Yesterday we practiced some Arabic letters.  We are slowly making our way through the alphabet and learning how to write the letters.  Arabic is written from left to right instead of right to left.  Also letters are written differently based on where they are in a word.  Yesterday we practiced writing a new letter and listening to four words and writing down what we heard.
I am very impressed with the Alif Baa
 curriculum.  We all did quite well with hearing the sounds in the words and writing them down.  My Kindergartener is still learning how to combine the letters and write from right to left, but he was able to identify the letters in the words.
We probably spend less time on language arts skills than some homeschoolers.  I find that learning other languages translate into better language arts skills in English.  For instance learning to write in Arabic increases handwriting skills in English.  Learning the sounds of different letters in Arabic corresponds to better discrimination skills in English.  In other words I find that practicing language arts skills in another language will improve the language arts skills in English.
My children are currently learning how to read and write in Arabic and Koine Greek.  Mandarin and French are mostly done orally right now.  While we do spend a lot of time on other languages, my children do get plenty of instruction in language arts in English.  We have barely made a dent in the Alif Baa
 curriculum.  It will probably take us a couple of years to make it through, but we have plenty of time ahead of us to learn.