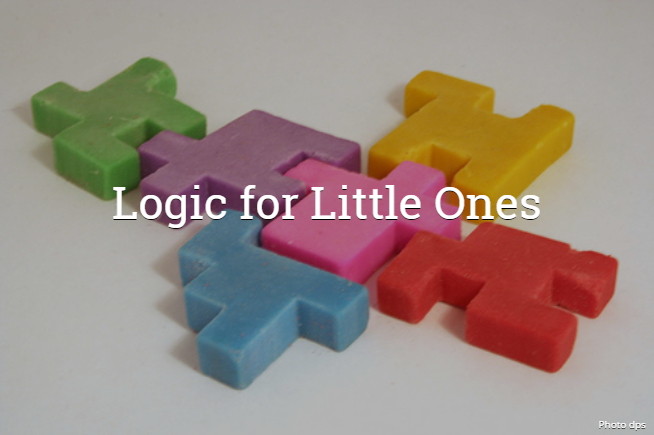 Puzzles, puzzle books, and games are a great way to introduce your child to logical thinking.  When my kids start formal learning, I've tended to include some puzzles, puzzle books, or logic games into their learning.
Dot to dot and maze books are a great way to start.  From simple mazes from to the nearly impossible mazes found in this 50 States Maze Book, there is lots of fun to be had with mazes.  Dot to Dots can start off simply.  I started my daughter off on simple dot to dot books like Wildlife Dot to Dot.  Eventually, the Dot to Dot Adventure Book will be a good challenge.  My boys had fun with that one.
Jigsaw puzzles are always good too.  We have an assortment of floor puzzles as well as smaller puzzles that can be done on a table.  Puzzling helps with fine motor skills, hand-eye coordination, and problem solving.                    .
About once a week I have my 6 year old spend some time playing logic apps.  Because my time needs to be divided between all my kids during the school day, I'm happy to have some things that my daughter can do independently.  These are fun too and she often wants to play them in her free time.
Classic Flow – Child has to connect matching colors to create a flow through a pipe.
Rush Hour – The child has to move cars and trucks around on a board to create a pathway for a car to leave the lot.
Bumpling – Here the child has to maneuver ladybugs so they bump other ladybugs off the screen.  Only one ladybug should be left on the screen.
Tynker – This app teaches the basics of programming through simple drag and drop commands.  The child is supposed to figure out a way to solve a puzzle using the commands.
Do you have any favorite logic games or puzzles?  Please share in the comments.