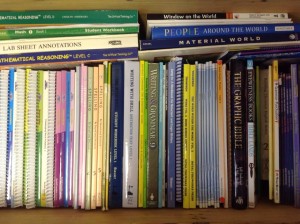 When I began homeschooling 8 years ago, I had no thought toward making long-term plans. There were so many years ahead of us and a world of options to explore each year. A few years ago because of a potential move to a remote area of the world where we would have limited access to materials, I figured it would be a good idea to plan out years in advance so I could gather necessary materials before the move.
As I started to plan for my middle schooler, I realized that I needed to figure out high school so I would know what to cover for middle school.  While I was looking at high school, I found myself changing what I was originally going to have my kid do the next school year. Some things, I realized, would be covered well in high school and we could spend more time on other things in middle school. Having the big picture when planning made things so much easier.  Still, I didn't know how long my kid would take to finish some books so I guesstimated and have adjusted along the way. I overestimated in some areas and underestimated in others.
My other kids were just starting Kindergarten and 4th grade. Long-term planning for them just consisted of 3 years of plans including their current grade. What they wanted to do with their future, their abilities, and their interests were not so easily seen. 18 months later, I have a much clearer picture of my current 5th grader's future plans, his skills, and interests. Because of that, I am going to attempt to get a big picture of his future homeschooling years. His will be quite different from his brother because he is a very different learner.  I may use some of the same resources, but I will need to use them differently.
Looking ahead has helped me see the next year clearer.  Plans will change and my child's focus may change as well.  That is fine.  Meanwhile, I have more confidence and a clearer picture of the skills my child needs today.