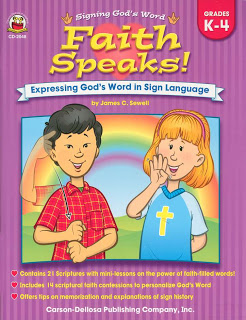 When my boys were small I discovered a little book called Faith Speaks!  This book helps you teach your children 21 different Bible texts using sign language.  While I have a little background in sign language, I find the instructions in the book easy to follow.  It uses CASE which is Conceptually Accurate Signed English instead of signing the exact words.  In other words, your child will learn the signs for the important words and concepts and not signs for little words like "of," "are," and "and."
The Bible texts covered are Hebrews 11:1, Romans 10:17, 2 Corinthians 5:7, 2 Corinthians 4:13, Romans 10:9,  Matthew 6:30, Matthew 8:26, John 14:12, Mark 11:23, Galatians 3:26, Ephesians 2:8-9, Hebrews 11:6, Romans 1:12, James 1:5-6, Romans 3:3-4, 2 Timothy 3:15, Ephesians 6:16, 1 Thessalonians 5:8, Romans 5:1, Hebrews 11:29, and 1 John 5:4.
Here is an example of what the pages are like: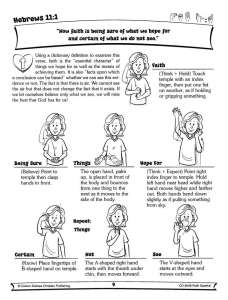 There are also 14 different confessions of faith based on Bible verses such as "There is no condemnation for me because Jesus made me free." (based on Romans 8:1) and
"I can give my worries to Jesus because He cares for me."  (based on 1 Peter 5:7)
You also find instruction on the sign language alphabet and numbers within the pages of this 64 page book.  This book says it is for grades K-4, but sign language can be used with the very young.  I purchased this book when my boys were age 2 and 4.  We would practice a Bible verse by sign language at night before bed.  They enjoyed the signing and they learned a Bible verse at the same time.  I still use this book several years later.  It aids retention.  My boys are able to learn a Bible verse quicker when they learn the signs to go along with it.  I highly recommend Faith Speaks! to anyone wanting to teach a young child or a kinesthetic learner Bible verses.