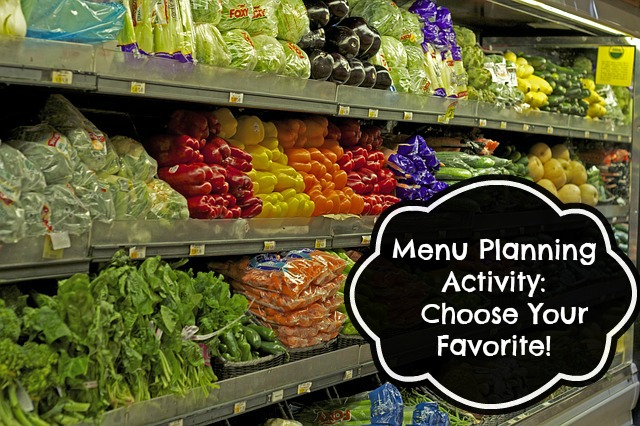 We did a little project this afternoon. I had the boys each pick a grocery store flyer.  Their task was to make one day's menu for our whole family for under $40 and they could only choose items that were in the flyer. Why did we do this?
Well, it was Friday afternoon and the regular school day was not coming together as planned so I scrapped it and went with this project. For this project my children were able to practice reading and writing, learn balanced food choices, as well as practice writing money with the dollar and cents.
What is your favorite menu?
Here is the first menu as written by my Kindergartener

Breakfast
APL JUS .99 (apple juice)
SIOMINRLS 3.99 (cinnamon rolls)
PARS 1.29 (pears)
Lunch
PESUPOCIS 5.00 (pizza pockets with a backwards 5)
ORING 3.49 (oranges)
ESCREM 4.99 (ice cream)
Dinner
PEPSE 1.49 (Pepsi with a backwards 4 and 9)
MACENDHES 1.60 (Mac-n-cheese)
PUK RIM ROST 4.00 (pork loin roast)
COLUFLAWR 1.49 (cauliflower with a backwards c)
Second grader's menu as he wrote it.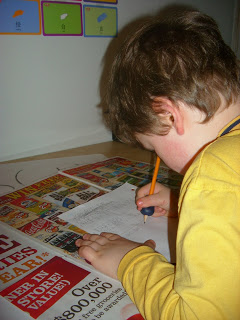 Breakfast
yougurt 3 99
Gornela Bars 2/5
Ceres 2 99 (a brand name of juice)
aunt Jemima pancake mix and syrup 2 89 ea
Lunch
pizza 5 00
Mangoes 99
cookies 3 99 ea
Dinner
mac an cheese 2 58
Pork chops 2 99
Peas 79
coca cola 3 99
Which menu would you prefer to eat?  Let us know your favorite menu in our comment section.