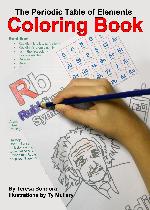 A few months ago my son told me he wanted to learn about the elements.  I picked up a few things at the library, but nothing interested him.  It seemed like most of the books that focused on the elements of the periodic table were designed for someone ready for high school level Chemistry.  However, I recently checked out a periodic table coloring book designed for kids.  I was a bit skeptical that a coloring book would give my son the information he craves, but it surprised me. 
The Periodic Table of Elements Coloring Book by Teresa Bondora of
www.HowtoTeachScience.com
was made for children.  It is designed to be used along side a study of chemistry.  The author's website also offers a program to go along with the coloring book.  Now, this isn't simply a coloring book – it is full of facts.  You will find two pages for each element.  One page gives you information about the element, when it was discovered, and how it is used.   The other page is a coloring page.  The coloring page has the element's symbol and name written in fill-in letters and the element's number with a fill-in number.  The page also features several small pictures to color.  These small pictures relate to how the element is used.  For instance, the element Magnesium has a picture of an airplane flying, a flower in a pot, and a sparkler. 
This coloring book is no small book either.  The whole thing is a whopping 172 pages.  All of the elements from 1-86 are included with the exception of the man-made elements 58-71.  At the end of the coloring book there is information on heavy metal pollution as well as a description of how lead can affect your body.  An activity on the metals found in the Earth's crust is included at the end of the coloring book along with instructions on how to use the activity with different age levels.  This book is designed for children age 5 and up. 
I am pleased to have found a resource that will give my son information in a child-friendly way.  You can find samples of the coloring book at the
How to Teach Science
website.  The coloring book is available at that site for immediate download.   If you have a child interested in chemistry or if you want something more hands-on to go with your study of the elements then take a look at the Periodic Table of Elements Coloring Book.  I'm happy that I did.