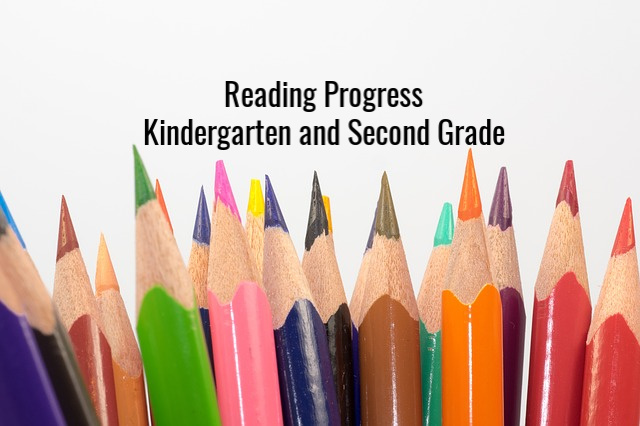 In our homeschool we don't use a specific reading program.  Our reading program consists of reading.  Sometimes discussion of the books take place, but standard comprehension questions don't play much of a role here.  Discussion allows me to understand how much my child understands about what he has read.   Also listening to my child read the book aloud gives me insight.  I know he is following along comprehending when he stops to laugh out loud at a funny part or stops to make a comment about what he is reading.
My Kindergarten aged son has pretty much been following along Sonlight Grade 1 and 2 readers with a few additional books added into the mix.  He started the year in I Can Read It! Book 1
.  We never finished the book and we skipped the I Can Read It Book 2 and 3 to go right into Dr. Seuss books.  The I Can Read It books contained interesting text, but they were boring in comparison to other books.  My oldest grew to hate reading as he progressed through the first book so I skipped him to Dr. Seuss books and he did fine and grew to love reading.  When my younger son started to show dislike for the book I immediately skipped him ahead as well.
I Can Read It Book 1 is the first book in Sonlight's grade 1 readers.  He started the book the previous school year so he started the year on page 18.  Here is an example of the reading level of the book from page 18:
Pam is a gal.  Pam has a cab.

Matt is a pal to Pam and Jan.

Matt has a ram.  His ram is Sam.
I'm guessing this book is a beginning first grade level book based on Sonlight's book list.  The last book of the school year will be Daniel's Duck
. Daniel's Duck is a Level 3 I Can Read It book.
Someone was running after him.  

He ran faster. 

He came to the river.

He started to throw the duck

as far as he could.

But he could not throw it.
Daniel's Duck
 is ranked as a 2.1 grade level by Scholastic book wizard.  He has made quite a bit of progress this school year.  Around half way through the year he made a huge jump in fluency.  He started out needing to sound out most words.  At the end of the school year he was reading one I Can Read It book in about 30 minutes and only needed to sound out a word every 2-3 pages.
My second grader has been reading books that I chose for him.  I chose books that were around his level that I thought he would enjoy.  He started the school year enjoying the continuing story of My Father's Dragon.  Elmer and the Dragon
 is the second story in the My Father's Dragon trilogy
.  Here is a sample of the reading level of the book:
"Certainly!" answered the old gull, pointing his right wing toward the ocean.  "Just fly in exactly that direction until you get there."

Elmer took out his compass and found that this direction was west northwest.  "Is it very far?"
It is ranked as a 4.7 grade level by the Scholastic book wizard.
The last book he read this school year was A Wrinkle in Time
 by Madeleine L'Engle.  Here is a sample of the text of the book:
He's there, somewhere, underneath, and we mustn't let them take him away from us.  Help me hold him, Meg.  Don't lose control of yourself.  Not now.  You've got to help me hold Charles!"  He took the little boy firmly by one's arm.

Fighting down her hysteria, Meg took Charles's other arm and held it tightly.
Teacher's book wizard ranks this book as a 5.8 grade level. The biggest aspect of my second grader's reading ability this school year has been his desire to read in his free time.  His speed of reading has also increased.  About 3/4 of the way through the school year I allowed him to read his reading books silently.  We then discussed what he read.  You can see his list of assigned reading books for next school year here.
I am pleased with their progress this school year.  Looking at the reading level of certain books to determine progress is only a small aspect of reading progress.  While reading levels are important, how a child interacts with books is far more important in the long run.  I watched my younger son grow in confidence as he progressed through the year.  I observed him reading books of choice from his bookcase when he could have been playing.  That is true progress.  I watched my older son move from reading fun stories to reading books full of symbolism.  Towards the end of the school year I participated in an hour long discussion with him about a recent book he read.  To me that is true progress.  I'm looking forward to introducing my boys to more books next school year.