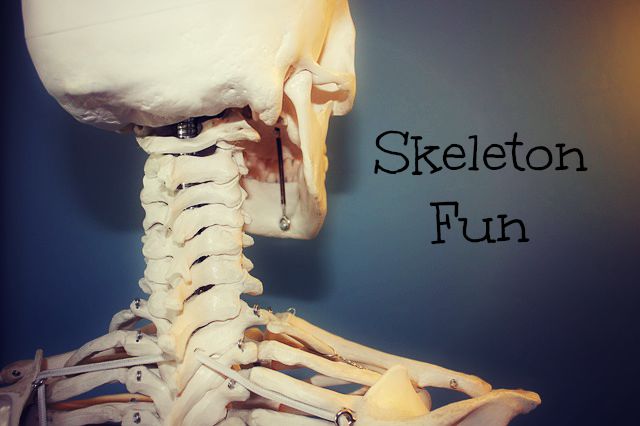 We are looking at the human body in-depth this school year.  My kids enjoy studying a topic for a long period of time as opposed to the standard textbook approach that covers many different topics during one school year.  We have been looking at the skeletal system for a little while now.  The Whack-a-bone online game was a fun way to introduce the names of the different bones in the body.
I used eskeletons.org life size child skeleton (pdf file) to print out the different bones.  They have a child-sized skeleton that I printed, cut out, and then glued on cardstock before I cut it out again.  I had to glue it onto cardstock because the skeleton was not separated into different bones when printing out.  It cut off some bones and continued printing them on another page.  It was a little extra effort, but it was the only thing I could find online that printed bones in a life-size skeleton with the detail I wanted.  We will be using this same skeleton later on when we play pin the bone on the skeleton.
I started off by having them across the room with the bones.  They had to choose a bone and run to a certain spot to put the skeleton together and then run back for another bone.  As you can see I don't have all the bones cut apart, but I do have most major ones separate.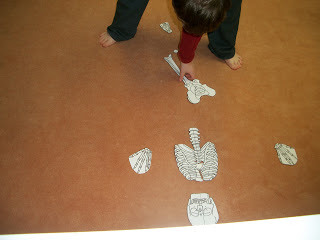 Once the skeleton was finished the boys posed next to him.  Turns out the life-size child skeleton was smaller than expected.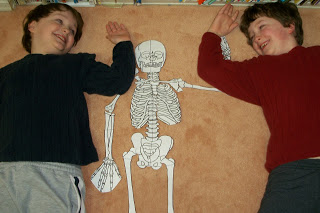 My 6 year old decided to get creative and started posing the skeleton in various positions.  Arms and legs kept coming out of the sockets.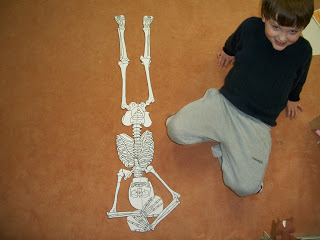 We will be doing this activity once more before we finish with our study on bones.  If you want to see what we are using for science this year you can see our study listed here.