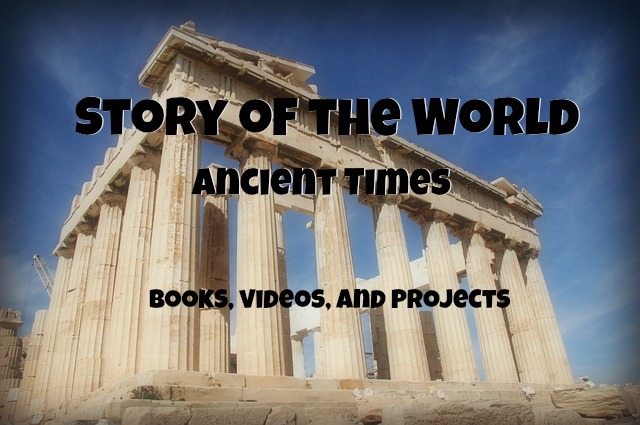 I'm going through the Story of the World series with my daughter at a leisurely pace.  We are using the Story of the World audio book and the Story of the World Activity Book as our main resources and adding in some videos, books, and projects.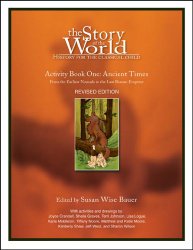 On this post I have listed additional books, videos, and activities that are not found in the activity manual.  The activity manual is a great resource for books and projects and we are using many of them.  I highly recommend the combination of the audio book and the activity book.  It has been working quite well for us.
This is an updated list.  I expanded this list to cover through chapter 25 of Story of the World Ancient Times.  My daughter also requested more projects so chapters 5 and up have more projects.
Here is basically how we are using Story of the World:
Story of the World chapter audio with coloring page (We listen to the audio in the car as well.)
Review questions (from Activity Book)
Map work (from Activity Book)
Mixture of read aloud books, videos, and projects on the topic.  This takes up most of our time, but it is the part we like the best.
Introduction
Chapter 1 – The Earliest People
We started a prehistory unit study last year, but didn't finish it so I added a bunch to this chapter.
Chapter Two:  Egyptians Lived on the Nile River
Chapter 3:  The First Writing
Chapter 4: The Old Kingdom of Egypt
Chapter 5: The First Sumerian Dictator
Chapter 6: The Jewish People
Chapter 7: Hammurabi and the Babylonians
Chapter 8:  The Assyrians
Chapter 9:  The First Cities of India
Chapter 10: The Far East – Ancient China
 Chapter 11:  Ancient Africa
Chapter 12: The Middle Kingdom of Egypt
Chapter 13: The New Kingdom of Egypt
Chapter 14:  The Israelites Leave Egypt
Chapter 15:  The Phoenicians
Chapter 16:  The Return of Assyria
Chapter 17:  Babylon Takes Over Again!
Chapter 18:  Life in Early Crete
Chapter 19:  The Early Greeks
Chapter 20:  Greece Gets Civilized Again
Chapter 21:  The Medes and the Persians
Chapter 22:  Sparta and Athens
Chapter 23:  The Greek Gods
Chapter 24: The Wars of the Greeks
Chapter 25:  Alexander the Great