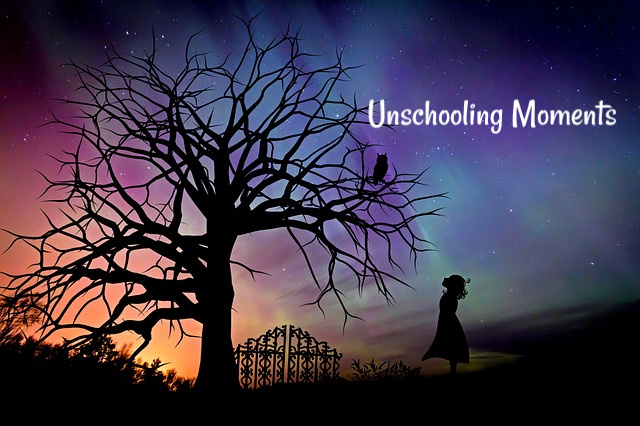 I have grappled with unschooling. In some ways I see it really working well for us, but in other ways I don't think it is enough. I approached preschool through unschooling and my children were very well prepared for Kindergarten. I like the idea of unschooling after preschool, but the times I have tried it have left my son unfulfilled. I unschooled my oldest son for the second half of Kindergarten and discovered that my son needs new ideas presented to keep the learning process going. He can expand on new ideas and explore on his own at that point. My other son typically needs direct instruction to facilitate learning. While unschooling isn't the perfect solution for us, it is not without it's presence in our home. Some unschooling moments might be:
my children exploring a nature website for hours
my children delving into newly acquired library books
my children running outside at night to explore constellations
my children making a book with pictures and words
my children writing letters to someone
my children posting on their blog
one child reading to the other
These unschooling moments are moments initiated by my kids. When they get into something I try to adapt our school day and let the unschooling moments take the place of regular schooling. As my children grow and I learn more about their learning styles I can figure out how to incorporate more self-motivated learning into their days. After all, passing on a love for learning is my main goal in homeschooling.