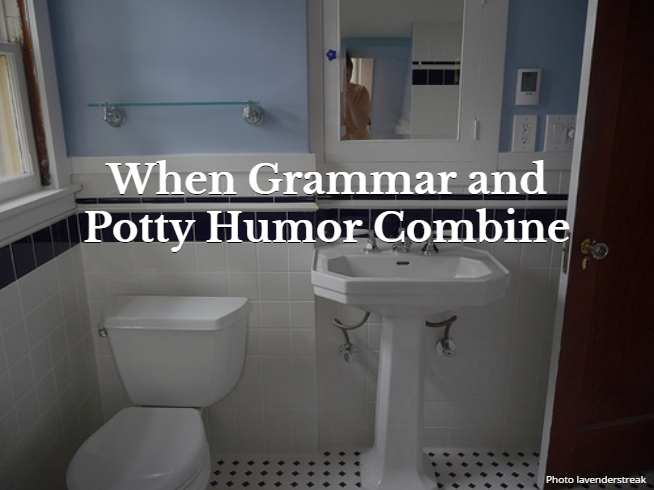 What do you get when you combine potty humor with grammar? You get some pretty strange and interesting stories like this one:
Nothing ever goes my way on my messy birthday. This year for my birthday party, we were supposed to go mining at the pool. But it rained cats and gems, so we had to eat indoors. Then, I wanted to have a chocolate toilet with pork frosting, but Mama baked me a junky cake with garbage frosting. Gross! And to make matters worse, she tripped – and dropped the stinky cake onto the dance. Then we opened presents. I really wanted a sticky bathroom – but I got a sloppy doll. And my dog chewed the doll`s foot off! Then, I noticed a couple of itchy emerald bumps on my nose. I had come down with the dreaded garage pox on my birthday! All my chalky friends had to go home. It was the most smelly birthday I've ever had. – from Happy Birthday Mad Libs
This school year I am using Mad Libs to introduce grammar to my first grader.  My 6 year old recently declared that Mad Libs is one of the best things she does for school.  My older son, not wanting to miss out on the fun, has been known to come running when a story is completed and ready to be read.
If you aren't familiar with Mad Libs, they are a fun way to create a silly story while learning the parts of speech.  The book has two pages per story.  On the first page, parts of speech are listed with a blank for you to fill in different words.  My daughter doesn't know the parts of speech, so I briefly define them as we go through the list.  I also give her examples and she will choose one of them or pick one of her own.  I write down her responses while she moves about the room – because moving about is her normal. Once all the parts of speech are filled in, the chosen words are inserted into a prewritten story.  Sometimes the choices fall flat when the story is read, but often it brings much laughter.
I think we will make it through several of the Mad Libs books this year.  When it comes time for my daughter to start formal grammar, she will have some knowledge of the concepts as well as sweet memories related to the subject.