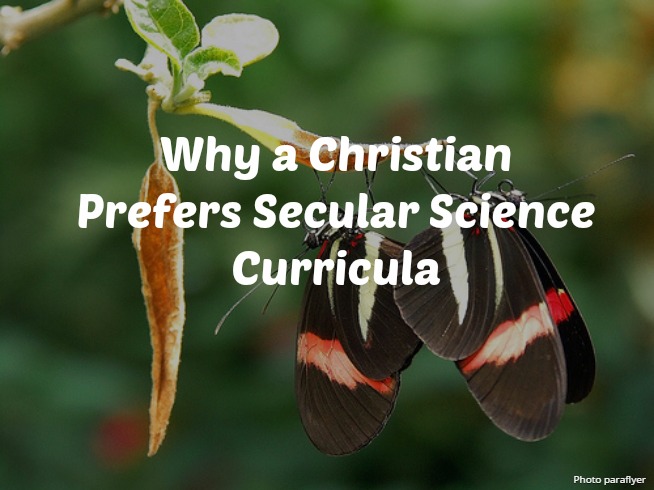 Many years ago I made a deliberate choice to avoid science curriculum that was written for Christian homeschoolers. The whole issue between Young Earth Creationists and others in the homeschooling community has become quite political and polarizing. You have to be in the right group to be accepted in some circles. As I looked into Christian science curriculum I discovered this argument and polarization was present in the textbooks. Instead of a science text just being science, it was science mixed with reasons why another group was wrong. That was one main reason I avoided any Christian science curriculum.  I want science to be science.
Another reason why I have neglected to use Christian science curriculum is that I want my child to have an unsheltered exposure and study of science so that tough questions can be faced while he is still under my wing.  My son wanted to be a scientist even before he started school.  Even his toddler interests were science-related.  I would not be surprised if he did become a scientist.  While he has many years left before he finishes high school, I want to take the time to carefully prepare him for a future in a science profession.  One way I am preparing him is to give him a solid science education using secular materials.
Here is my current secular science sequence for my son who wants to be a scientist in either a biology or physics-related field:
Miller Levine Biology 6th
Physical, Earth, and Space Science: An Integrated Approach
4th-6th
Earth Science by Tarbuck
7th
Conceptual Physics
7th
Chemistry: A Molecular Approach by Tro
8th
Living in the Environment: Principles, Connections, and Solutions
9th
Zoology by Miller
9th
Chemistry: The Central Science by Brown
10th
Campbell Biology AP
11th
The Cosmos: Astronomy in the New Millennium
11th
Physics C –Physics, Volume 1 by Halliday, David, Resnick, Robert, Krane, Kenneth S.
and Physics, Volume 2 by Resnick, Halliday, Krane
12th
As a Christian who holds Scripture to a high-standard I also realize there are many different interpretations out there.  Personally, I'm not married to one specific interpretation of Genesis or the age of the earth.  I want my child to consider science facts and ideas in the light of God's Word.   I don't want him to approach science as something that is feared or new scientific discoveries as an attack on his faith.  I want him to see that science and faith can coexist without dismissing science facts as wrong.  For instance, we have discussed things like the Big Bang and how that sounds similar to "Let there be light." in Genesis.
Next year my son will have his first full-fledged biology course. This is a secular textbook with a whole unit on evolution. He is also covering Earth Science in his CPO textbook.  Should I state that we do lots of science in our homeschool?  During the year he will also use Reasons to Believe's Good Science, Good Faith curriculum as a good chunk of his Bible study time. This curriculum is from an old earth perspective and it teaches that science confirms the accuracy of the Bible with many of the materials and audio lectures presented by scientists who are Christians.  While some may consider this a science curriculum, I would put this in the category of a Bible curriculum.  Here is a brief summary:
Good Science, Good Faith Video Tour from Reasons Institute on Vimeo.
In addition to the Good Science, Good Faith curriculum my son will be reading the different perspectives on creation when he starts high school.  I've put together this tentative list that covers the young earth, old earth, and theistic evolution perspectives.  Because of my personal bias I've only selected authors that have a high regard for the accuracy of Scripture.
Beyond the Firmament: Understanding Science and the Theology of Creation

Coming to Peace with Science: Bridging the Worlds Between Faith and Biology

More Than a Theory: Revealing a Testable Model for Creation

Did Adam and Eve Really Exist?: Who They Were and Why You Should Care

The Cell's Design: How Chemistry Reveals the Creator's Artistry

The Young Earth: The Real History of the Earth – Past, Present, and Future

Bones of Contention: A Creationist Assessment of Human Fossils
I want him to think about the different perspectives and make up his own mind as he delves further and further into the world of science.  While many may find science curriculum written for Christian homeschoolers to be sufficient or the way they want to approach the issue, I've come to the conclusion that an unsheltered exposure to science is the best way to teach my son.