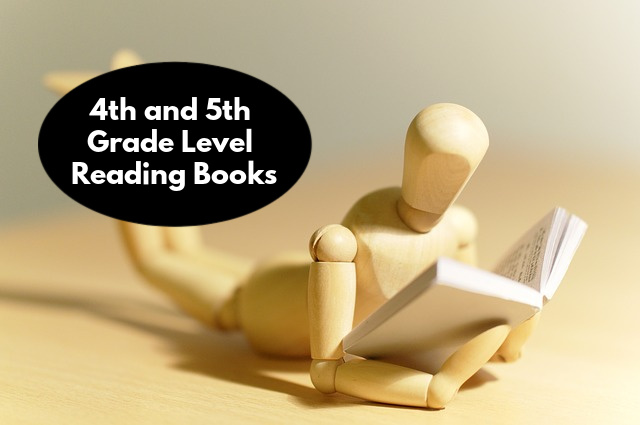 Here is a short list of reading books at the 4th and 5th grade level. I've listed the grade level that is listed on the Scholastic Book Wizard as well as the Lexile Level and a link to the book at Amazon so you can see inside the book.
These are mostly listed in order of difficulty. My son will make his way through this list this year. I carefully chose these books for my son.  He is a different reader from my older son.  He enjoys non-realistic stories the most so some of the things my older son read did not make it on his list.  He is also reading some books that my older son never read.  Number the Stars, while realistic, has elements of danger and suspense that should keep him interested.  Paddle-to-the-Sea is a realistic as well, but it has a picture on every page and a map to follow the journey.  This will make it a good choice for my visual-spatial little guy.  I am also reading aloud different books that will take about the same amount of time that I have him read to me.  I have a few realistic stories on that list.
Our approach to reading involves using real books rather than graded readers.  We stay away from twaddle-style books and use books rich in sentence structure and vocabulary.  We don't spend time on reading comprehension books or questions.  We read and discuss.  When my son moves to reading silently I will start requiring a book or oral report on the book.
Henry Huggins

Grade Level: 4.2
Lexile Level: 670
Genre:  Comedy
Paddle-to-the-Sea

Grade Level: 4.5
Lexile Level: 840
Genre:  Adventure
Three Tales of My Father's Dragon
My Father's Dragon
Grade Level: 4.8
Lexile Level: 990
Elmer and the Dragon
Grade Level: 4.7
Lexile Level: 880
Dragons of Blueland
Grade Level: 4.6
Lexile Level: 800
Genre:  Fantasy

Mr. Popper's Penguins

Grade Level: 4.9
Lexile Level: 910
Genre: Comedy
Pippi Longstocking

Grade Level: 5.2
Lexile Level: 870
Genre:  Comedy Adventure
Number the Stars

Grade Level: 5.1
Lexile Level: 670
Genre:  Historical Fiction
Charlie and the Great Glass Elevator

Grade Level: 5.4
Lexile Level: 720
Genre:  Adventure
The Indian in the Cupboard

Grade Level: 5.9
Lexile Level:  780
Genre:  Fantasy
The Cricket in Times Square

Grade Level:  5.9
Lexile Level:  780
Genre:  Animal Stories