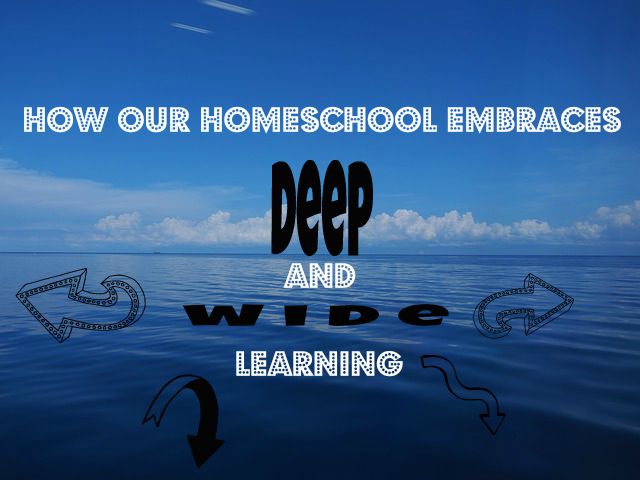 As we took off on our homeschooling journey, we naturally fell into a pattern of deep and wide learning.  This method has served us well through the years and I expect it will always stick around.
When I was in school many years ago, I had much practice in surface learning.  While that method may work for some people, it didn't work for me.  When I went to college, I discovered that I learned so much better when I fully explored a topic.  So when it came time to homeschool, I knew that deep learning would be part of our journey.
5 ways Our Homeschool Embraces Deep and Wide Learning
1.  Unit Studies
Our very first unit study was a dinosaur study that I put together for my Kindergartner in our first year homeschooling.  He was crazy about dinosaurs and I incorporated that love into a study that we explored together.  Over the years we have done many unit studies on science, history, and geography.  This year I even made an English study for my daughter because she wanted to learn more about the topic.  If I had to pinpoint our favorite parts of school, they would be the unit studies.
Our unit studies are a little different from typical unit studies.  Once a topic is picked, my goal is for us to fully explore it using lots of resources.  My kids like books, videos, and hands-on projects related to the topic.  We have never done a standard unit study where other disciplines are pulled into the topic.  We just explore the topic for what it is and spend other time on subjects not covered in the unit study.
2.  Covering lots of subjects
We do cover lots of subjects.  Novelty is important to us.  Doing the same thing every day would not work well for us.  Covering the different subjects in a loop keeps things fresh and interesting and makes every day different.  Yes, this means that we don't cover each subject everyday.   Although we do tend to get to the basics most days.  Some subjects are electives that I think will be beneficial for my children's education and others are my children's interests.
As an example, one year we covered:  Math, Bible, PE, Geography, History, Science, Reading, Phonics, Literature, Spelling, Handwriting, Typing, Mandarin, Arabic, French, Greek, Art, Music, Game time, Map reading, Logic, and Projects.  A loop schedule keeps everything organized so we get to things.  Because we cover lots of subjects, it make take longer to finish curricula or to gain some skills.  I'm okay with that.
3.  Using multiple resources for one subject
We like variety.  As eclectic homeschoolers we tend to pick and choose different resources and sometimes that means multiple resources for one subject.  This doesn't mean that we utilize everything from a book or curriculum.   My kids tend to be leaps and bounds learners in some ways.  Sometimes we start a curriculum and find that we don't need to finish it because my child had moved beyond what the curriculum had taught.
Engagement has been a major goal in our homeschooling path.  I have one child that tunes everything out when not engaged.  Using a variety of resources helps keep things interesting which means more engagement.
Math has been an interesting journey.  We went quite wide for awhile using lots of different supplements that explored topics beyond what was in the standard curriculum.  This slowed down progress some, but then there was a point where my kids were ready to surge ahead and we accelerated the main curriculum.  I can't say whether this surge was due to the breadth of coverage early on, but I can say that it didn't hurt.  By the time my kids hit algebra, we settled into one main resource that challenged my kids to think deeply.
4.  Spending more time than average on school
We've always spent more than the average amount of time on school.  Because of that I tend to avoid answering any of the message board type questions about how many hours are spent in school.  Our school days incorporate necessary subjects, my children's interests, exercise, and informal learning.  It is all mixed together.  I think many are asking about seat work only and that isn't how our days are configured.  Even in the early grades, we have been able to spend good chunks of the day learning together.   Seat work may take a large percentage of time towards the end of middle school, but in the early grades it is a small percentage of our day.  I know that if we only spent time doing the necessary subjects and covering the necessary concepts, engagement and novelty would greatly decrease.
5.  Choosing curricula that challenges and requires a child to think
Deep learning is a goal and an emphasis. Socratic questioning and discussions are part of our day-to-day life.  When I choose curriculum, I don't focus on covering the essentials.  I look for something that digs deeper and causes a child to think.  Sometimes this means adding to a curriculum or using a curriculum differently.  I have been known to choose a higher level resource and just use the discussion/thinking part of the curriculum and skip over the seat work for that topic or do seat work at a lower level.
Elementary math in our homeschool, for instance, isn't about completing a set of grade-level standards.  It delves into interesting math ideas beyond the standard curriculum, encompasses challenging word problems that can take a while to figure out, and stretches a child's mental math abilities.
Deep and wide learning has served our homeschool well.  Upward progression of grade-level skills does happen, but it takes a backseat to deep and wide learning.  If you think about building a tall tower, having wide and deep layers in your structure provides a more stable tower.  A focus on upward progression of skills can create a less stable structure that is more difficult to build on when you get to higher levels.
Last school year I gave my son an SAT practice test as a baseline measurement.  We had not covered modern history at that point so I thought my son would only know questions about history that we had covered.  Yet, because of our foreign language learning and studies of world cultures, there were many other questions that he was able to answer correctly.  I was excited, but not because he answered them correctly.  I was excited because I had some kind of tangible "proof" that our deep and wide approach to learning was successful.
We will continue on with our deep and wide approach to learning.  I tend to fall in line with the belief that learning is an adventure that is best satisfied with deep exploration.  I realize that this approach to learning isn't for everyone, but I believe it is an option that can work well for many kids.