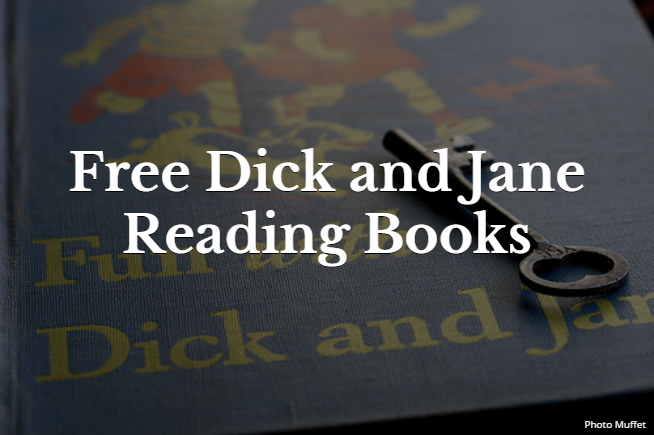 In the process of teaching reading, I've stumbled around once my child completed a set of early phonics readers.  I've tried several things and wasn't happy with many phonics-based readers and other readers tended to rely mostly on sight words.  So many phonics-based readers were incredibly boring and my kids do not respond well to boring.  Now, that I'm teaching reading for the third time, I finally found something that works great for us.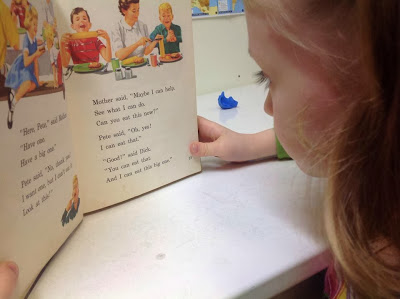 Back when I went to elementary school Dick and Jane books were used.  I loved those books and read them multiple times for fun.  Apparently, they used the look-say method where sight words are emphasized.  Because of this, I didn't even consider using them for my kids.  I tend to approach reading through a mixed approach with phonics being important, but I also introduce my kids to new sounds and words in the context of reading actual books (whole language approach).  I do very little with sight words and don't mesh with the sight word approach at all.  Earlier this school year I was once again stumbling around trying to find reading books that would be a good fit with my daughter when my mom asked me if I wanted some old school books that she had.  She had a couple old Dick and Jane readers.  At the same time I looked through my shelves and found an old paperback Dick and Jane primer.
I tried the Dick and Jane primer with my daughter and I knew I had finally found what I was looking for!  The stories were interesting about day to day life and each page had colorful pictures.  It does teach with the look-say method, but if the child is receiving phonics instruction they don't have to be used that way.  My daughter's phonics skills allowed her to sound out the words in the reader.  The sentences in the textbook tended to be simple and words would repeat.  This helped my daughter gain more confidence and develop more fluency.  I helped her sound out the new words that were a bit beyond her phonics skills.  I believe each story in the reader introduces one or two new words and additional stories build on those words to increase fluency.  I approached the new words as something to be sounded out rather than learning a sight word.  So far…so good.  I'm alternating some of the Dick and Jane readers with other literature.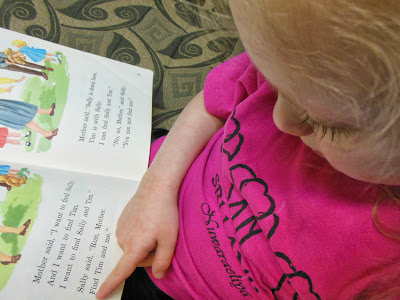 Reading Fun With the Family

Dick and Jane books can be found FREE online. While I prefer using actual books, the original books are hard to find.  If you have a computer or e-reader you can read them easily online at Open Library. I've used two of the Open Library Dick and Jane books so far. There are some books in the series that are not available to read online.  For those, I've written the title and posted an Amazon link to the book next to it.  If online reading is not your thing, you can also find reprints of many of the Dick and Jane books here
Up through 1st grade level:
We Read Pictures (Amazon link)
We Read More Pictures (Amazon link)
Before We Read (Amazon link)
Sally, Dick, and Jane (Amazon link)
Fun With Our Family or Fun With the Family (Amazon link)
Fun Wherever We Are
Guess Who? is an older version, but it seems to fit here best.  The other version The New Guess Who? seems to be easier than Fun Wherever We Are.
Fun With Our Friends
More Fun With Our Friends
2nd grade level:
Friends Old and New
More Friends Old and New (Amazon link)
3rd grade level:
Roads to Follow
More Roads to Follow
4th grade level:
5th grade level:
I started with the book Fun With the Family, but it is unavailable to read online.  I found that my daughter could sound out most words after completing Explode the Code 1 and 2.
The We Look and See, We Come and Go, and The New We Work and Play is an older version of the Dick and Jane books and it can be read online, but it starts off the child in the look-say method.  If you want to use these combined with phonics I would start at Fun With the Family or Fun Wherever We Are.
To give you an idea of the reading level of the Fun Wherever We Are book here is the text of the first story in the book:
Jane said, "Here, Puff.

Come here."

"Look!" said Jane.

"Look here, Puff."

Jane said, "Puff!  Puff!

Look at this.

Come here and look at this."
By the end of the book the child is reading sentences like this:
Father said, "I see a big dog.

Who can find it?"

"I see three little dogs," said Dick.

"But I cannot find the big one."

"I want to see," said Sally.

"I want to see the three little dogs."
If you know of any other places to find these vintage readers online, please share!