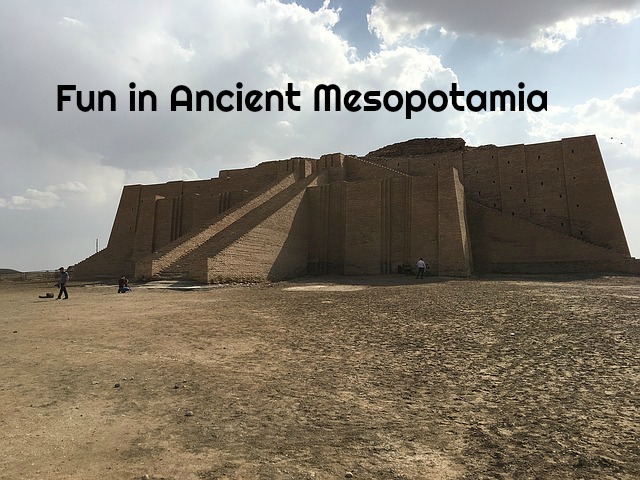 We are currently finishing up this current school year exploring ancient Mesopotamia.  We are reading:
Ancient World
  This is our spine for our study of the ancient world.  We are following the order set out in this book.  This book covers prehistory through ancient Rome.
DK Eyewitness Books: Mesopotamia
  This book is full of pictures related to ancient Mesopotamia.  We skim the text and focus on the pictures and descriptions.
Everyday Life in Ancient Egypt and Mesopotamia
 This book is a wonderful resource for hands on activities.  It has many craft ideas for Egypt and Mesopotamia.  It also contains information that is found in our other books.
Mesopotamia (Rich & Poor)
  This book is unique in that it examines daily life while contrasting the life of the poor and rich in ancient Mesopotamia.  While not full of pictures, it does contain some pictures as well as interesting text.
You Wouldn't Want to Be a Sumerian Slave!: A Life of Hard Labor You'd Rather Avoid (You Wouldn't Want to…)
  My boys loved this book.  It is full of fun colorful cartoon-like illustrations.  It describes the daily life of ancient Sumer as well as what it was like to be a slave.
Gilgamesh the King (The Gilgamesh Trilogy)

The Revenge of Ishtar (The Gilgamesh Trilogy)

The Last Quest of Gilgamesh (The Gilgamesh Trilogy)

This set of three picture books by Zeman is a great introduction to the Epic of Gilgamesh for younger children.  My boys loved this series.  The books are wonderfully illustrated and give a little peek into the culture of ancient Mesopotamia.
Ancient Near East (Coloring Book)
  This coloring book merges art with history.  It encompasses far more than ancient Sumer and it will be used many times in the upcoming year.
We are enjoying adding hands-on fun to our history lessons.
Here my son is copying cuneiform writing on a piece of rolled out clay.  He is using the DK Eyewitness Ancient Mesopotamia book.
My older son used the Everyday Life in Ancient Egypt and Mesopotamia to find examples of cuneiform writing to copy.
This is a project where they are creating a house from ancient Mesopotamia.  There is a house pictured in the DK Eyewitness book that we attempted to copy.  I grabbed some pizza dough in the freezer and cooked it in two loaf pans.  I cut one piece so it was only half the size and stacked it on top.  I gave each of my boys a paintbrush and a little cup with some food coloring and they painted the windows and door onto the bread house.
Once they completed the windows and doors I mixed up a lighter food coloring mix and they painted the entire house.  It didn't take long to complete the project either.
Can you guess what this is?  It is our Tower of Babel.  We decided on seven layers based on the ancient tower of Etemenanki in Babylon that was seven stories tall.  Ziggurats are more square shaped than a watermelon, but we had fun anyway.
We had seven layers and when we put the eighth half-finished layer on top everyone was to start talking in a different language.  That was a little halting for my boys until we morphed into talking made-up languages.
And we have a giant attacking the Tower of Babel.  Guess what was on the menu for dinner that night?